Faculty
Donald R. Ronning, PhD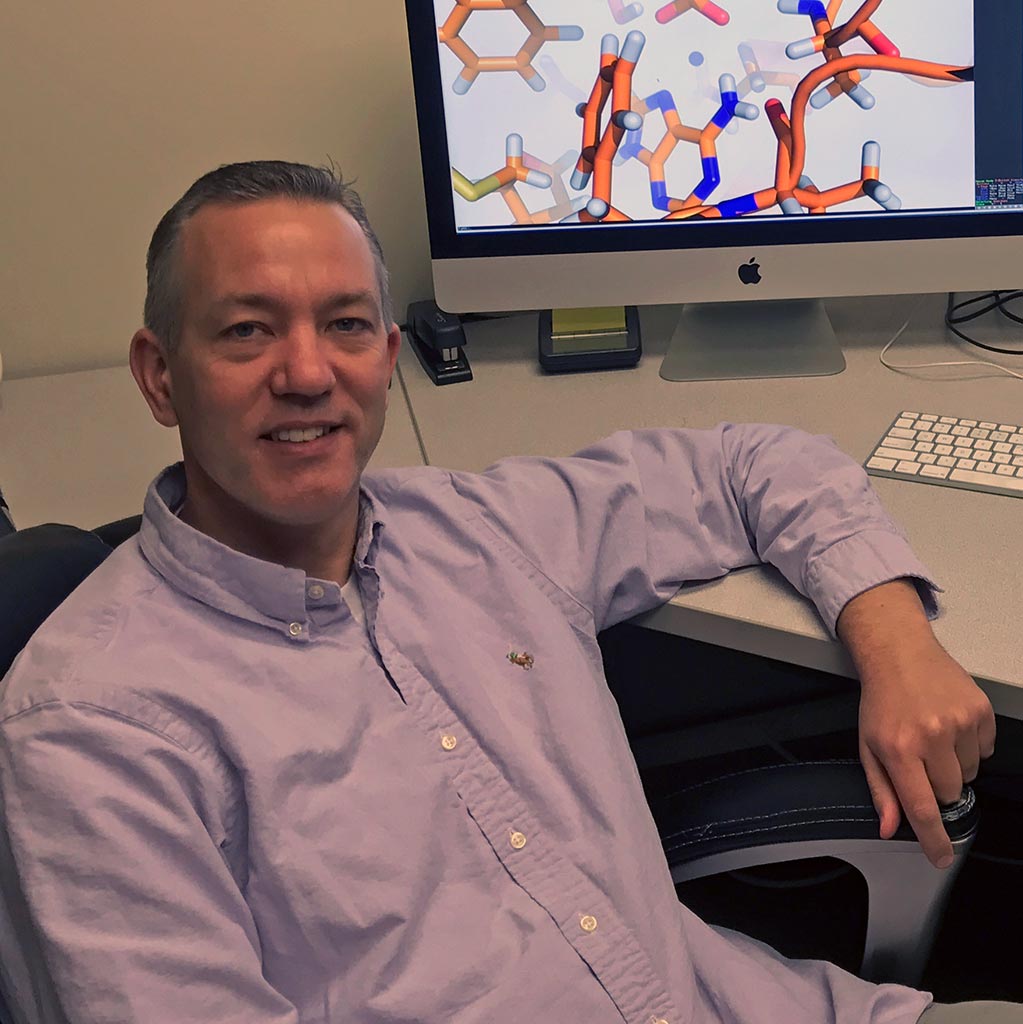 Professor
Email: Donald.Ronning@utoledo.edu
Office: Wolfe Hall 2256B
Lab: Bowman-Oddy 2010
Phone: (419) 530-1585

Professional Background:B.S., Biochemistry, 1995, University of Minnesota
Ph.D., 2001, Texas A&M University
Research Fellow, 2001-2005, National Institutes of Health
Current Lab Members:
Graduate Students 
Yahani Jayasinghe Arachchige 
Brooke Ballis 
Thilina Jayasinghe 
Rasangi Rathirage
Thanuja Sudasinghe 
Undergraduates
Celine Schreidah (Class of 2019)
Sanjay Koka
Research Synopsis:
Tuberculosis (TB) kills more people every year than any other human pathogen. The focus of my laboratory research is to define the function of proteins necessary for the survival of the bacterium that causes TB and proteins that promote disease pathogenesis. To this end, we employ protein crystallographic techniques, steady-state enzyme kinetics, library screening for inhibitors, and mass spectrometry as the primary methods. We are studying important proteins in three different areas of Mycobacterium tuberculosis biochemistry: trehalose metabolism, redox homeostasis, and activated methyl transfer.
Methyltransfer reactions
Our recent development of a universal AdoMet-dependent methyltransferase assay has opened a new avenue for the Ronning lab to study the large family of mycobacterial methyltranserases. Our research in studying these versatile enzymes involved in diverse reactions is expanding quickly to include intracellular and extracellular glucan biosynthesis, Ergothioneine biosynthesis (see Redox Homeostasis), and RNA methylation in mycobacteria.

Mycobacterial Redox Homeostasis
We are studying the biosynthesis and utilization of the two most important small-moledule reductants in mycobacteria, Mycothiol and Ergothioneine. Both of these compounds play important roles in Tuberculosis pathogenesis and anti-TB drug metabolism. To discover new drugs that affect production and use of these compounds, we are employing structural and functional studies of the enzymes that produce and use these compounds.

Trehalose Metabolism
Trehalose is profoundly important for the survival and virulence of M. tuberculosis (figure below). We are studying the essential otsAB biosynthetic pathway responsible for the de novo synthesis of trehalose and may play a role in the biosynthesis of trehalose monomycolate, which is an essential donor molecule required for the building of the Mycobacterial outer membrane (mycomembrane). Since the antigen 85 enzymes use trehalose monomycolate as a substrate to transfer mycolic acids to the mycomembrane and are essential for the viability of M. tuberculosis, we are studying their enzymatic activity, substrate specificity, and post-translational modification in collaboration with Steve Sucheck (University of Toledo), Mary Jackson (Colorado State University) and Choong-min Kang (University of California-Stanislaus). Finally, we are studying the GlgE maltosyltransferase, which functions in the trehalose recycling branch of this pathway and is a genetically validated TB drug target.