Student Success Summit 2022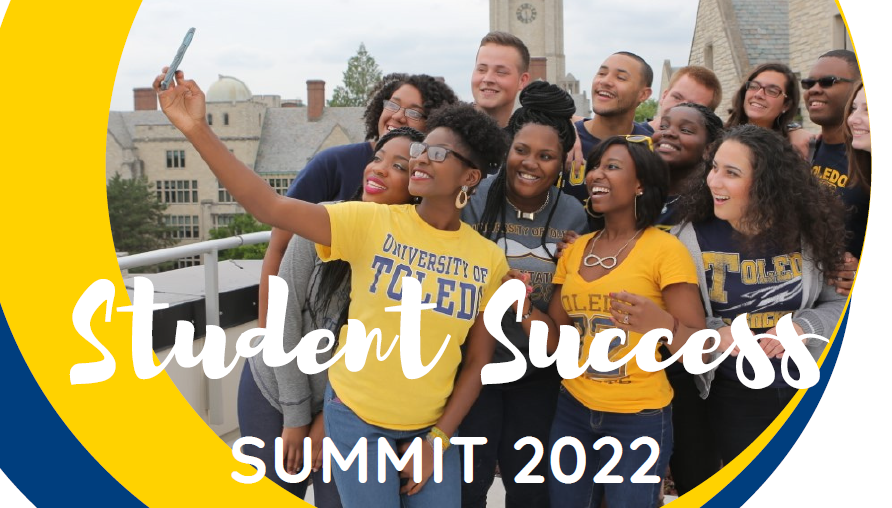 The Office of the Provost is excited to announce the inaugural Summit on Student Success, to be held on Friday, April 8th from noon-3 pm.
This virtual event will allow faculty, staff and administrators to hear from students how we can support their success and learn concrete, evidence-based strategies that each of us can use to support the student experience at UToledo.
Participants will have the opportunity to learn together, with faculty and staff innovators from across campus and will take away practical tools and ideas that they can implement in their courses, programs, or colleges.
Summit Agenda     Breakout Session Materials     View Summit flyer             
Friday, April 8th | noon-3 p.m.
Part 1: HELPING STUDENTS THRIVE & ACHIEVE THEIR COLLEGE GOALS
12:00-2:00 PM (virtual)
Open to All (faculty, staff, & administrators) & College Retention Committees (CRC's)
Part 2: COLLEGE RETENTION COMMITTEE SPRING RETREAT
2:15 - 3:00 PM (virtual)
For College Retention Committee (CRC) members 
Part 3: STUDNET SUCCESS SUMMIT MIXER
3:30 - 4:30 PM (in-person)  |  Savage Business Complex Rm. 2100 
For College Retention Committee (CRC) and URC members, Student Panel members, & Breakout Session Leaders
---
Breakout Session Materials
SSS 1: You Belong Here: The Power of Sharing Belonging Stories
Presenter: Heather Robbins, College of Health & Human Services
Description: Social belonging is the feeling of being valued and connected to others in one's community. This session will provide guidance on developing and adapting an evidence-based intervention to help students realize that experiencing challenges is a normal part of the college experience and to believe that they belong in college.
SSS 2: Believing in Our Students: The Power of a Growth Mindset
Presenter: Denise Bartell, Office of Student Success, Provost Office
Description: An institutional growth mindset conveys that we believe students are capable of growing their abilities if they put in the time and effort, use effective strategies, and reach out for help when they are struggling. This session provides participants a foundational overview on how campus personnel can convey a growth mindset about student abilities, why they should, and how to use growth-mindset messaging.
SSS 3: Supporting Student Growth through Wise Feedback
Presenters: Kristi Mock & Amy Toole, College of Natural Sciences & Mathematics
Description: The nature of the feedback we provide to students, in our classes, as supervisors, or as mentors, advisors or coaches, can have a critical impact on students' self-efficacy. This session will provide guidance on delivering critical feedback in a way that engenders trust, increases engagement, and supports growth.
SSS 4: What Are Your Students Thinking? How to Gather Real Time Feedback on Students' Experiences in the Classroom
Presenter: Glenn Lipscomb, College of Engineering
Description: The Ascend survey tool helps faculty understand how students experience critical learning conditions in their classroom, including belonging certainty, identity safety, institutional growth mindset, self-efficacy, and trust and fairness. This session provides guidance on how to use the Ascend tool to understand and improve students' experiences in the classroom.
SSS 5: Crafting Student-Attuned Syllabi
Presenters: Christopher Martin, College of Arts & Letters & Susanne Nonekowski, College of Pharmacy & Pharmaceutical Sciences
Description: Your syllabus is a powerful tool through which to convey respect and care for students, foster excitement for learning, and communicate your commitment to creating a supportive learning environment. This session will introduce participants to a syllabus review process that provides a framework for creating a student-attuned syllabi through language, policies, and practices.
SSS 6: Do Students See Themselves at UToledo? Supporting Diverse Representation
Presenter: Sandra Robinson, College of Natural Sciences & Mathematics
Description: When students don't see representations of people like them in their courses, programs, or university, it can contribute to feelings of invisibility, of not mattering to the institution or program, or of isolation and lack of community. This session will present ideas for incorporating positive and inclusive representations of diversity into courses, programs, and even physical environments.
SSS 7: Messaging Matters: Communicating About Student Progress in Attuned Ways
Presenter: Michael Prior, College of Health & Human Services
Description: Attuned communications convey to students that we value them and are invested in their success. This session will provide guidance on utilizing language around academic alerts, registration holds, probation, and suspension that center care and respect for students and provides support for student resilience and persistence.
SSS 8: Relationships Matter: Encouraging Connections in Classrooms and on Campus
Presenters: Jillian Bornak & Kathy Shan, College of Natural Sciences & Mathematics
Description: Feelings of connectedness to others are essential to student satisfaction, academic success, and retention. This session provides suggestions for how to construct classroom experiences that help students connect with each other and meaningfully engage with instructors and TAs.
SSS8 PowerPoint        Takeaway 1     Takeaway 2
SSS 9: Bring Your Whole Self: Creating Institutional Spaces with an Ethic of Care and Respect for Students
Presenter: Jeanne Kusina, College of Arts & Letters
Description: An identity safe space is one where students from diverse identities and backgrounds feel welcome, valued, and respected, and recognized as having the potential to succeed. This session overviews a set of strategies to create such spaces on campus, organized by four broad areas of evidence-based practice: establishing norms for group conduct, acknowledging diverse identities, addressing social or historical context, and employing routine inclusive practices. 
---
 The Summit on Student Success is sponsored by the Office of the Provost, the University Retention Committee, the Center for Excellence in Teaching & Learning, and the UToledo Equity Champions.