Safe Place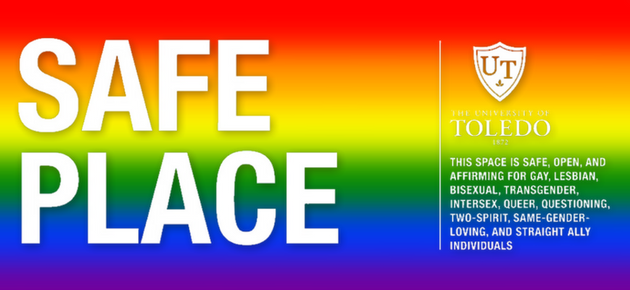 Safe Place
You may have noticed a Safe Place sticker on various offices around the UT campuses. A Safe Place is a confidential place free from homophobia, transphobia, bipohobia, and heterosexism where people who identify as lesbian, gay, bisexual, pansexual, asexual, transgender, genderqueer, non-binary, queer, or questioning can feel welcome, safe, and included. These offices have completed Safe Place training and have signed a pledge to act as allies for the LGBTQA+ community.
During Safe Place training, participants are introduced to LGBTQ-related terminology, provided information on common issues and challenges face by LGBTQ individuals, what it means to be an LGBTQ Ally, and International, National, State, Local and UT resources.  Safe Place is a 3 hour training.
For more information please contact the Office of Multicultural Student Success at omss@utoledo.edu. 
UPCOMING workshop dates
Friday, October 13th, 12 - 3pm in OMSS, Student Union 2500
Monday, October 30th 2-5pm in OMSS, Student Union 2500 
We also offer a modified one hour LGBTQA+ ally training. 
Learn more information about our ally workshops here