In Person
Need help with something? Come to the Student Union office 2525 and ask our Rocket Reps! We're happy to answer any questions that you may have.
Over the phone
Don't have time to stop by our office? We can answer questions over the phone. Just call 419-530-4606.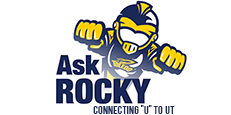 Ask Rocky is a one-stop-shop that provides students with answers to general questions about UT.
---
Services of Ask Rocky include:
Providing support and answers for students who may have general questions about UT.


Offering miscellaneous resources such as campus maps, campus directories, area attractions, important dates, and departmental hours.


Information regarding student organizations, including a list of all organizations, how to join an organization, and how to start an organization.


Providing a calendar of campus events, including sporting events and ticket information.