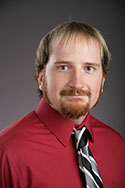 Adam Berger, System Administrator
Carlson Library
419.530.4038
Adam.Berger@utoledo.edu 
Adam Berger is System Administrator for UT Online. He has worked for The University of Toledo for six years. Adam began as a Co-Op from the Engineering Department and was hired full-time after graduation. Adam lives in the Toledo area with his family and their dog. In his free time, Adam enjoys running, playing games, and watching sports.
Education:
Bachelor's degree: The University of Toledo