The Health Information Administration program (HIA) at The University of Toledo in Ohio blends medicine, management, finance, information technology and law. You can earn a Health Information Administration degree at UToledo on campus or completely online.
The healthcare industry relies on health information administrators for their expertise in legally and accurately collecting, documenting, storing and sharing records.
What is Health Information?
Health Information is human information. It's the data related to a person's medical history, including symptoms, diagnoses, procedures and outcomes. A health record includes information such as a patient's history, lab results, X-rays, clinical data, demographic data and notes.
What is Health Information Management?
Health Information Management is the practice of acquiring, analyzing and protecting digital and traditional medical information vital to providing quality patient care. It is a combination of business, science, and information technology.
What does a Health Information professional do?
Health Information professionals are highly trained in the latest information management technology applications. They care for patients by caring for their medical data and are responsible for the quality, integrity, security, and protection of patients' health information.
Understand the workflow process in healthcare provider organizations, from large hospital systems to private physician practices.
Vital to the daily operations management of health information and electronic health records (EHRs).
Ensure a patient's health information is complete, accurate and protected.
The link between clinicians, administrators, technology designers, operations and information technology professionals.
Affect the quality of patient information and patient care at every touchpoint in the healthcare delivery cycle.
Work on the classification of diseases and treatments to ensure they are standardized for clinical, financial and legal uses in healthcare.
For more information, watch this short video, What Is HIM? or visit the American Health Information Management Association website.
UToledo graduates in Health Information Administration are highly marketable. As the industry grows more complicated HIA jobs are rising faster than the national average.
Top Reasons to Study Health Information Administration at UToledo
Options.

UToledo's Health Information Administration program offers three options for students to earn a bachelor's degree. All prepare students for the national Registered Health Information Administration (RHIA) examination and to become a  credentialed health information professional.

Earn a four-year baccalaureate HIA degree.
Use coursework from a bachelor's degree in another area to earn an HIA baccalaureate degree.
Use coursework from your health information technology (HIT) associate degree to develop a 2-plus-2 degree program. UT has partnered with Ohio community colleges to offer this program.

Strong job prospects.

The U.S. Department of Labor predicts that jobs for Health Information Specialists will increase by more than 50,000 new positions in the next decade. More than half of new HIA graduates with a bachelor's degree find jobs with salaries in the $30,000 to $50,000 range.

Online classes.

UToledo's HIA classes are offered only online. (UT's 

online HIA program

 has been lauded as one of the country's best.) Other courses and electives can be completed on campus.

Good prep for the RHIA certification exam.

UToledo undergraduate students in their final semester of the HIA program can qualify to test early for the Registered Health Information Administrator (RHIA) certification. This credential enhances your marketability in the competitive healthcare industry. Employers may pay more if you have it.

Accreditation.

UToledo's HIA online degree program is accredited by the Commission on Accreditation for Health Informatics and Information Management (CAHIIM). The majority of HIA courses are certified by Quality Matters, which monitors the quality of online courses.

UToledo Virtual Labs.

Labs and virtual computers on UToledo's campus are available 24/7. HIA students use software exclusive to UToledo's health information administration program.

Gain professional practice experience.

Hands-on projects in class
A senior capstone project
A 15-week required work experience at a healthcare facility
What jobs can I get with a health information administration degree?
Employment opportunities in the field of Health Information Management range from roles in acute care to ambulatory care to business.
Graduates from our program chart their own course. Some choose to advance their careers and earn RHIA credentials. Some enter the field and discover a passion for other disciplines. They have no trouble transitioning and using their baccalaureate degree as a stepping stone in a new direction.
Reference: American Health Information Association (AHIMA) & Ohio Health Information Management (OHIMA)
Hands-On Learning Opportunities
At UToledo, we take you beyond the textbooks and the four walls of a classroom. These real-world experiences are what help our graduates gain professional skills and land jobs.
Internships
Research
Study Abroad
Rocket Kids Semester
On-campus and Part-time Jobs
Student Organizations
Tuition and Scholarships
Most new students don't pay full price. 94% of new UToledo students receive scholarships or other state and federal aid.
Keep in mind: Your cost will vary by college, program and a host of other options. This is the average amount full-time students pay per year.
---
How to pay for collegeInternational Student - How to Pay for College
Choose Ohio First scholarship
Ohio residents who have been accepted into this STEM program are eligible for the Choose Ohio First scholarship — a four-year, renewable scholarship.

Honors College
The Jesup Scott Honors College at The University of Toledo offer our best and brightest the resources and opportunities needed to unlock your fullest potential. Whether you aspire following graduation to cure disease, innovate technology, advance statecraft, redefine markets, or express creatively, together we can fuel vibrant and promising tomorrows.
Honors students come from a variety of countries, backgrounds and cultures. While we may bond over a tough class, our differences make us blossom.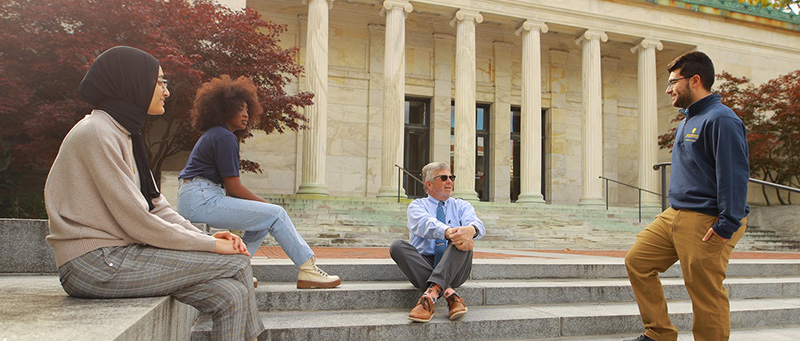 Benefits of Honors
The Honors College is a community of academically gifted students from all majors on campus. Students take unique Honors classes taught by dedicated Honors faculty and complete an Honors thesis or capstone project in their major, earning the Honors medallion at graduation within their normal program of study. Honors students are challenged to think more deeply and broadly about what they learn. With special academic, cultural, and professional development opportunities, their education extends beyond the classroom.
Honors students can also choose exclusive housing in the Honors Academic Village or the historic McKinnon, Scott and Tucker Halls.
Explore more about what the Honors College can offer you as a budding professional, inquisitive scholar, and engaged person.
Visit Campus
A campus visit is the best way to figure out if UToledo is a great fit for you.
Learn More and Register