Pharmacy school isn't just for pharmacists. The University of Toledo also educates future pharmaceutical scientists. We have one of the best pharmaceutical sciences programs in the U.S.
The Medicinal and Biological Chemistry (MBC) program blends chemistry and life sciences. Think chemistry for those also interested in healthcare and developing medications.
UToledo undergrads study how to design, synthesize and develop pharmaceutical drugs. This interdisciplinary science focuses on synthetic and organic chemistry, biochemistry, molecular biology, biotechnology and immunology.
Top Reasons to Study Medicinal and biological chemistry at UToledo
America's most comprehensive pharmaceutical sciences program.

UToledo offers five majors in pharmaceutical sciences and a path to medical school.

Strong research focus.

Medicinal and Biological Chemistry students are encouraged to participate early in research. They are trained in the development of new drugs and therapeutics. This is excellent experience for those who want careers in applied research in rational drug design.

Cutting-edge classrooms and labs.

Excellent prep for medical school.

The Medicinal and Biological Chemistry major is a great option for students interested in medical, dental or veterinary school, as well as a physician assistant program.

Flexibility.

Take electives in forensic science, biomedical science or any other area that lets you  meet your career goals.

B.S.P.S./M.S. in medicinal chemistry.

Earn your master's degree with an extra year and summer of study.

Learn in a real-world, healthcare environment.

MBC majors spend their final two years mainly on UToledo's Health Science campus. The campus is home to The University of Toledo Medical Center, other clinical practices and research facilities, and the Department of Pharmacy and Pharmaceutical Sciences.

Dual-Degree Option: B.S.P.S. - M.S. Law.

We offer a 4+1 combined degree program in which you can earn your B.S.P.S. and M.S. in law in five years.
What jobs can I get with a medicinal and biological chemistry degree?
About half the students in UToledo's Medicinal and Biological Chemistry program choose to go to graduate or medical school.
Professional chemists and biochemists are in demand in:
Biotechnology companies

Chemical companies

Clinical research organizations 

Colleges/universities

Hospitals/medical centers

Pharmaceutical companies

Research foundations

The National Institutes of Health

The U.S. Department of Defense

The U.S. Environmental Protection Agency

The U.S. Food and Drug Administration
They find employment as:
Clinical development and testing scientists

Drug analysts

Drug design research assistants

Forensic scientists

Quality control and quality assurance positions

Regulatory affairs specialists 

Research chemists

Risk assessment officers

Technical laboratory assistants

Technical writers
Hands-On Learning Opportunities
At UToledo, we take you beyond the textbooks and the four walls of a classroom. These real-world experiences are what help our graduates gain professional skills and land jobs.
Internships
Finding an internship is easy thanks to UToledo's robust community partnerships with companies and organizations around the region. Dive into unique opportunities that prepare you to launch your career.
Ten-week internships locally or abroad are required for all Pharmaceutical Sciences majors. Students also take professional skills classes before starting their internships.
Internships help you:
Gain practical experience
Build your resume
Refine your skills
Cultivate contacts
Research
UToledo is known for its undergraduate research opportunities. Start as early as your freshman year. UToledo Pharmaceutical Science students are encouraged to conduct research. Pharmacy faculty members are engaged in cutting-edge research.
99
undergraduates received research funding (2022)
21,000+
hours spent by undergraduates on research
Our Office of Undergraduate Research can:
Connect you to faculty mentors and projects
Help you find funding
Help you present your research at conferences and other events
Study Abroad
Travel, experience new cultures and meet new people — all while earning college credit.
UToledo's Medicinal and Biological Chemistry program partners with universities and research centers in Hungary, Japan, India, Saudi Arabia and Jordan.
Rocket Kids Semester
The Rocket Kids program offers University students a fall, spring or summer semester internship providing recreational programming to U.S. military youth while experiencing the world in locations such as Germany, Italy, Belgium and The Netherlands.
Rocket Kids interns will gain practical experience in programming, leadership, health and wellness, creative arts, performing arts, cultural and literary arts, team and individual sports, adventure and outdoor recreation and STEM education.
On-campus and Part-time Jobs
Learn skills that prepare you for a career after graduation.
Build your resume.
Earn money.
If you want to work, there are plenty of opportunities on campus and at businesses near campus. If you demonstrate financial need, you may qualify for the federal work-study program.
Student Organizations
Our most successful students get involved.
UToledo has 400+ student organizations that will help you:
Make friends.
Build your resume.
Network.
Be a leader.
Serve your community.
Have fun!
Tuition and Scholarships
Most new students don't pay full price. 94% of new UToledo students receive scholarships or other state and federal aid.
Keep in mind: Your cost will vary by college, program and a host of other options. This is the average amount full-time students pay per year.
---
How to pay for collegeInternational Student - How to Pay for College
Choose Ohio First scholarship
Ohio residents who have been accepted into this STEM program are eligible for the Choose Ohio First scholarship — a four-year, renewable scholarship.

Honors College
The Jesup Scott Honors College at The University of Toledo offer our best and brightest the resources and opportunities needed to unlock your fullest potential. Whether you aspire following graduation to cure disease, innovate technology, advance statecraft, redefine markets, or express creatively, together we can fuel vibrant and promising tomorrows.
Honors students come from a variety of countries, backgrounds and cultures. While we may bond over a tough class, our differences make us blossom.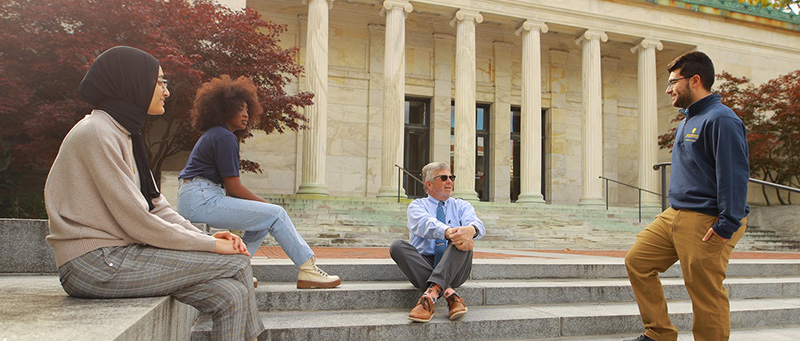 Benefits of Honors
The Honors College is a community of academically gifted students from all majors on campus. Students take unique Honors classes taught by dedicated Honors faculty and complete an Honors thesis or capstone project in their major, earning the Honors medallion at graduation within their normal program of study. Honors students are challenged to think more deeply and broadly about what they learn. With special academic, cultural, and professional development opportunities, their education extends beyond the classroom.
Honors students can also choose exclusive housing in the Honors Academic Village or the historic McKinnon, Scott and Tucker Halls.
Explore more about what the Honors College can offer you as a budding professional, inquisitive scholar, and engaged person.
Visit Campus
A campus visit is the best way to figure out if UToledo is a great fit for you.
Learn More and Register