Jason C. Levine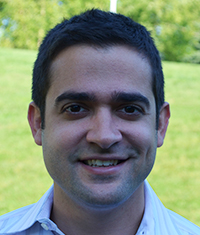 PhD, University of Wisconsin-Milwaukee, 2011
Associate Professor
Office: UH 5280A
Phone: 419-530-2761
Fax: 419-530-8479
Email: Jason.Levine2@utoledo.edu
Mailing Address:
Department of Psychology
University of Toledo
2801 West Bancroft St.
Toledo, Ohio 43606-3390
Dr. Levine will be accepting students for the Fall of 2021.
Dr. Levine's CV can be viewed here.
Dr. Levine's Health Psychology Lab page
Research Interests
Cardiovascular psychophysiology of stress and coping
Health Psychology and Behavioral Medicine
Behavior Therapy
Social Connectedness
Cyberpsychology
Selected Publications
Levine, J.C., Burns, E., Whittle, J., Fleming, R., Knudson, P., Flax, S., & Leventhal, H. (2016). Randomized trial of technology-assisted self-monitoring of blood glucose by low-income seniors: improved glycemic control in type 2 diabetes mellitus. Journal of Behavioral Medicine. doi:10.1007/s10865-016-9763-5
Levine, J.C., Fleming, R., Piedmont, J.I., Cain, S.M., & Chen, WJ (2016). Heart rate variability and generalized anxiety disorder during laboratory-induced worry and aversive Imagery.  Journal of Affective Disorders. 205, 207-215.  doi: 10.1016/j.jad.2016.07.019
Elhai, J. D., Levine, J. C., Dvorak, R. D., & Hall, B. J. (2016). Fear of missing out, need for touch, anxiety and depression are related to problematic smartphone use. Computers in Human Behavior, 63, 509-516. doi:10.1016/j.chb.2016.05.079
Swift, J.K., Callahan, J. L., Heath, C., Herbert, G., & Levine, J.C. (2010). Applications of the psychotherapy phase model to clinically significant  deterioration. Psychotherapy: Theory, Research, Practice, Training, 47, 235-248. doi:10.1037/a0019787
Swift, J.K.,Callahan, J.L., & Levine, J.C. (2009). Using clinically significant change   to identify premature termination. Psychotherapy: Theory, Research, Practice, Training, 46, 328-335.doi: 10.1037/a0017003.
Please visit the Health Psychology Lab to learn more!