UToledo Center for Performing Arts (CPA)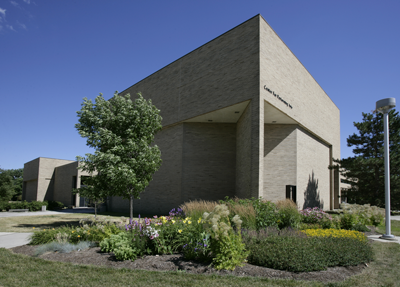 Here, you'll find:
LOCATION
The UToledo Center for Performing Arts (CPA) is located at 1910 W Rocket Drive, at the corner of Towerview Blvd and W Rocket Drive W on the main campus of The University of Toledo. Use the west entrance to campus, off Secor Road. 
PARKING FOR EVENTS IN THE CENTER FOR PERFORMING ARTS - Parking is free only in Area 12 and only during our events that indicate that free parking is available during the event. Check the event's details to be sure. HOWEVER, there are also metered spaces in Area 12 that are pay spots 24/7.  They are marked with signage. You can park in metered spaces, but you must pay at the kiosk. Handicapped parking is also available in this lot only for those vehicles displaying the proper permit.
SPACES
Recital Hall - Venue for many of our concerts, recitals and music events. Seats 267.
Center Theatre - Flexible multi-use venue for plays, film screenings and other Theatre and Film Department events. Seats 150-200 depending on configuration.
Studio Theatre - Generally used as a classroom and rehearsal space, this theatre is also used for live productions. Seats 80-90 people depending on configuration.
PA1039 (Film/Video Production Classroom) - Formerly know as the Lab Theatre, this flexible multi-use space serves as a classroom, film studio and a screening space for Film Fridays and other events. Seats 30-60 people, depending on configuration.
ACCESSIBILITY 
The Center for Performing Arts, including performance spaces, classrooms and restrooms are handicapped accessible to wheelchairs, walkers and similar aids. Handicapped parking is available in Area 12, just across from the building. There is also a handicapped accessible drop-off area directly in front of the building. If other forms of accessibility are required, please contact Lauri VanWormer, the secretary for Departments of Music and Theatre and Film. Contact information is provided below.
Department of Music
419.530.2448
utmusic@utoledo.edu
Department of Theatre and Film
419.530.2202
theatrefilm@utoledo.edu
RENTING SPACES IN THE CPA
While our students and their classes, rehearsals, productions and concerts often keep the CPA busy much of the year, we do occasionally rent our spaces out to campus or community organizations. We can also provide technical support and equipment, depending on your needs. There will be some cost, however each event is considered on an individual basis as no two events are exactly alike or present the same needs. Please contact the chairs of the Departments of Music and Theatre and Film for more information.
Music Spaces - Visit the Music Spaces page for details or contact the Music Department secretary 419.530.2448 or email utmusic@utoledo.edu.
Theatre Spaces (Center Theatre, Studio Theatre, PA1039, & related areas) -  Contact the Theatre and Film Department secretary 419.530.2202 or email theatrefilm@utoledo.edu.

419.530.ARTS (2787)
Room 1036B
1910 W Rocket Drive (Main Campus)
Toledo, OH
E-mail: thearts@utoledo.edu  
Main Office: 419-530-2448  
Center for Performing Arts, Room 1030
Mailing Address
Department of Music,  MS 605
The University of Toledo
2801 West Bancroft St.
Toledo, Ohio  43606-3390
Main Office: 419-530-2202  
Center for Performing Arts - Room 1030
MAILING ADDRESS
Department of Theatre and Film,  MS 611
The University of Toledo
2801 West Bancroft St.
Toledo, Ohio  43606-3390
Dept. Phone Numbers
Fax 419-530-8439
Box Office 419-530-ARTS (2787)
Costume Shop 419-530-4318
Scene Shop 419-530-4557
Film Equipment Room 419-530-4548