UPDATED COVID-19 PROTOCOLS
Updated May 20, 2021
Since the beginning of the pandemic, we have followed the guidance of the Ohio Department of Health and the U.S. Centers for Disease Control and Prevention. In line with their guidance, the University is making the following updates effective June 2: 
Individuals who are fully vaccinated, meaning two weeks have passed since receiving your final dose of a COVID-19 vaccine, are no longer required to wear a mask while on campus and do not need to physically distance. This applies both indoors and outdoors.
Individuals who are not fully vaccinated should continue wearing masks while on campus and maintain physical distancing of 3 feet in the classroom and 6 feet elsewhere.
The University will be discontinuing our event registry and removing all restrictions on event size.
---
Throughout the pandemic, The University of Toledo has relied on evidenced-based guidance from local, state and federal public health officials and our own infectious disease experts to promote a safe campus environment for our students, employees and guests.
With three highly effective COVID-19 vaccines now widely available, we are actively preparing for a more normal and vibrant on-campus experience this summer and fall.
We continue to ask our community to do their part to keep campus safe, including getting vaccinated and following our updated Rocket Prevention Principles.
↑ To Top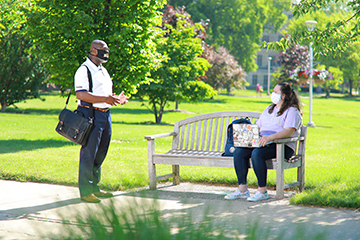 Important Links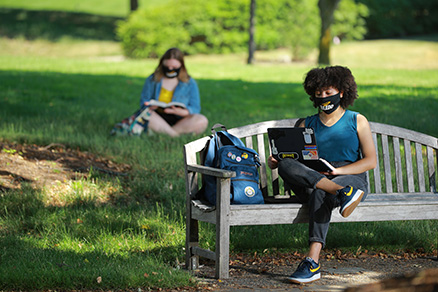 Health and Safety
COVID-19 Vaccine
The U.S. Food and Drug Administration has authorized three COVID-19 vaccines for emergency use. All individuals age 12 and older in the state of Ohio are now eligible to receive a vaccine.
At this time, the COVID-19 vaccine is not required by The University of Toledo, but it is highly encouraged to advance the health and safety of our employees, students, families and patients.
Students, faculty and staff members can receive the single-dose Johnson & Johnson vaccine at two on-campus locations:
University Health Center on Main Campus, noon to 4 p.m., Monday through Friday.
Main Campus Pharmacy, 7:30 a.m. to 5:30 p.m., Monday through Friday.
Appointments are not required.
UTMC continues to serve as one of Ohio's COVID-19 vaccination sites providing vaccines to the general public though its partnership with the Toledo-Lucas County Health Department and the Ohio Department of Health. 
Additional information about the COVID-19 vaccine, including frequently asked questions, the University's role in community vaccination efforts and how to register for an appointment at one of the community vaccination sites is available on the University's Dispensing Vaccines webpage.
If you are exposed
Unvaccinated individuals who were in close contact (within 6 feet) for a prolonged period of time (a total of 15 minutes or more) with someone who tested positive for COVID-19 will need to take precautionary measures following exposure.
At the recommendation of the Toledo-Lucas County Health Department, the University continues to follow the primary CDC guidelines that unvaccinated individuals who have come in close contact with someone who has COVID-19 should quarantine for 14 days.
Individuals who are fully vaccinated against COVID-19 or who have recovered from a laboratory-confirmed positive COVID-19 diagnosis in the previous three months do not need to quarantine following an exposure to COVID-19, as long as they aren't experiencing symptoms.
To be considered fully vaccinated, individuals must have completed a full course of the COVID-19 vaccine at least two weeks prior to their exposure.
Anyone who develops symptoms of COVID-19 after an exposure to the virus should isolate themselves from others and contact their healthcare provider.
The Toledo-Lucas County Health Department and the Ohio Department of Health are handling contact tracing for any cases connected to the University. The CDC website has additional guidance of what constitutes an exposure and what steps an individual should take following an exposure.
If You Test Positive

Individuals who have tested positive for COVID-19 should self-isolate for at least 10 days, per CDC guidelines.
As the University has previously communicated, students will not be penalized if they must miss class due to an illness or the need to quarantine. The Office of Student Advocacy and Support will assist students with making any necessary arrangements, and all materials will be accessible remotely. They can be reached at 419.530.2471 or rocketresponse@utoledo.edu.
Information about flexible work arrangements and the University's return-to-work criteria for employees following close contact, suspected or confirmed COVID-19 is available from Human Resources.
Student Health Services
Student health centers are available on both Main Campus and Health Science Campus.
Main Campus – University Health Center
The University Health Center is open from noon to 4 p.m. Monday through Friday. Call 419.530.3451 to schedule an appointment.
Health Science Campus – Student Health and Wellness Center
The Student Health and Wellness Center on Health Science Campus is open from 10 a.m. to 3:45 p.m. Monday through Thursday and from 9 a.m. to 1 p.m. Friday. The center is open year-round, closing only Dec. 25 - Jan. 1. Call 419.383.5000 for an appointment.
Pharmacy
Comprehensive pharmacy access is available through outpatient pharmacies on both campuses with multiple locations for ease of access.
Telehealth Services
UToledo students, faculty, staff and their beneficiaries can access on-demand virtual care services for urgent care needs daily from 8 a.m. to 10 p.m. through a partnership with University of Toledo Physicians. Services can be accessed online.
COVID-19 Testing
Symptomatic Testing
UToledo has COVID-19 testing available via The University of Toledo Medical Center for all symptomatic individuals on Main Campus and Health Science Campus. Call 419.383.4545 for an appointment. While waiting on test results, the CDC recommends individuals experiencing COVID-19 symptoms stay home and monitor their health.
Insurance will be charged for the test. Students needing financial assistance can receive help by contacting Student Affairs at 419.530.7963. The Toledo-Lucas County Health Department also maintains a list of community testing sites.
Surveillance Testing
UToledo continues to partner with UTMC to conduct weekly surveillance testing for asymptomatic faculty, staff and students.

Individuals who are selected for random surveillance testing will be notified and provided instructions through their UToledo email account. Participants will be given a nasal swab antigen test, which provides results in approximately 30 minutes. Positive results will be confirmed with a PCR test.

Participation in the random surveillance testing is required for residential students and highly encouraged for everyone else who is studying or working on campus.
Residential students who decline testing without documentation of a qualifying exemption may be subject to discipline under the UToledo Student Code of Conduct. Additional information about COVID-19 testing requirements for residential students is available on the Residence Life website.

Asymptomatic students, faculty and staff who are not selected to participate in the University's weekly random testing but would like to be tested for COVID-19 may also request a test.
The University is encouraging faculty, staff and students who are fully vaccinated to continue to participate in the weekly random COVID-19 surveillance testing if they are selected.
Reporting Positive Cases
In the event that a student, faculty member or staff member informs a University employee they have tested positive for COVID-19 or have been diagnosed as a probable case, that employee should instruct the individual to review the CDC guidance on self-isolation and symptom monitoring, and report the disclosure to the appropriate office, depending on whether the ill individual is a student, faculty member, staff member or UTMC employee.
To voluntarily report a positive case, individuals should contact their designated representative:
Mental Health
We are all experiencing a lot of change, uncertainty and disruptions of our usual routines. These new challenges give us an opportunity to explore new coping strategies and new ways of connecting. However, it is not unusual to feel stress, nervousness, anxiety or a range of other emotions.
The University of Toledo is committed to helping you stay healthy during the COVID-19 pandemic — and that includes your mental health.
Additional resources are available through Rocket Wellness.
University Counseling Center
The Counseling Center offers services to currently enrolled students via teleservices from 8:15 a.m. to 5 p.m. Monday through Friday. Appointments can be made by calling 419.530.2426. UToledo students who are experiencing distress needing support after 5 p.m. may call the after-hours support line at 419.255.9585. Or, you can access the Crisis Text line by texting "ROCKET" or "HOME" to 741741.
Employee Assistance Program
If you are feeling anxious from this situation, you may benefit from seeking counseling. Faculty and staff should contact their mental health provider or reach out to the University's Employee Assistance Program (EAP) or call 1-800-227-6007 (Use "UT" as the username).
Lucas County COVID-19 Emotional Support Line
The Lucas County COVID-19 Emotional Support Line is a telephone support service provided by the Mental Health and Recovery Services Board of Lucas County. Calls are answered by individuals prepared to provide emotional support to Lucas County residents who are experiencing anxiety, loneliness, depression or some other emotional or mental health challenges due to the COVID-19 pandemic.
The emotional support line can be reached from 11 a.m. to 7 p.m. seven days a week at 419.442.0580.
↑ To Top
UNIVERSITY OPERATIONS
2021 Summer and Fall Terms
With all Ohioans age 12 and older now eligible to receive the COVID-19 vaccine, the University is actively preparing for more traditional summer and fall terms later this year.
On-campus housing is expected to return to a more normal occupancy while still observing recommended health and safety measures.
Plans are also underway for fall 2021, including in-person activities such as New Student Convocation and Welcome Week.
Course Format
The University expects to return to a traditional academic course schedule this summer and fall, offering 80% of courses in-person in the fall.
For fall semester, in-person class size will no longer be limited to 100 and the University will remove all physical distancing requirements in classrooms. 
UToledo will continue to offer a variety of course modalities including online and hybrid courses.
Rocket Athletics
UToledo is planning to welcome back fans to the Glass Bowl at full capacity this football season, beginning with the Sept. 4 matchup against Norfolk State.
Other aspects of game day, including tailgating in the parking lots around the Glass Bowl and the capacities in private suites, also will return to normal in 2021.
Rocket Athletics' return to full capacity includes all other athletic facilities, including basketball at Savage Arena.
Human Resources

Flexible Work Arrangements
The University established a new Flexible Work policy, effective June 1, 2021.
In accordance with this policy, employees and leaders have the option to create flexible work arrangements that balance the operational demands of the University with the preferred work arrangements of staff and leaders.
The flexible work policy has no effect on workplace accommodations made under the Americans with Disabilities Act (ADA) and Rehabilitation Act. Employees in need of workplace accommodations due to a disability or medical condition should complete the ADA Accommodations Request Form.
Employees with questions specific to their individual circumstances should contact their supervisor or Human Resources consultant.
Face Coverings
Following new guidance from the Ohio Department of Health and the CDC, the University will no longer require fully vaccinated employees or students to wear face coverings, effective June 2. This applies both indoors and outdoors.
Individuals who are not fully vaccinated should continue wearing masks while on campus, except while alone in an enclosed space, eating or outside.
The CDC still requires face coverings be worn on public transportation, regardless of vaccination status. This includes TARTA's on-campus and community bus services.
Employees may be granted an exemption if they meet one of several criteria set by the state of Ohio, such as a medical reason or working in a setting in which existing laws or regulations prohibit face coverings. Exemption request forms are available from Human Resources.
↑ To Top
Important Links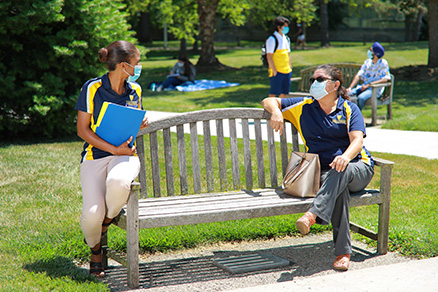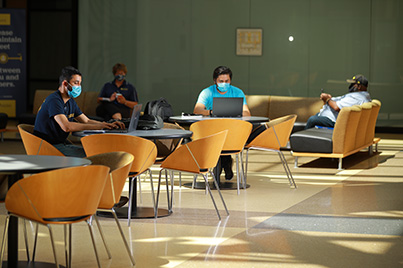 Important Links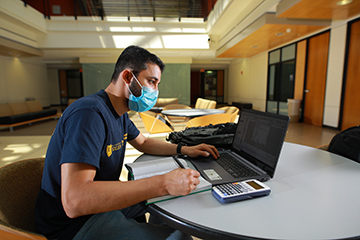 STUDENT RESOURCES
Academic Support
The Center for Success Coaching is available at 419.530.1250 to assist students with questions and concerns related to academic challenges and resource support. Additional information is available on the student success website. 
Financial Support
The University has organized emergency financial assistance programs for current students experiencing financial hardship as a result of the COVID-19 pandemic through the existing Rocket Aid application process.
A student only needs to fill out one Rocket Aid application and the UToledo team will work with each student individually to identify all options available to assist them. This includes funding available through federal relief programs and donors.
Student Support
The Office of Student Advocacy and Support is ready and able to assist students who may need help. They can be reached at 419.530.2471 or rocketresponse@utoledo.edu.
↑ To Top
Travel Restrictions
University Travel
The University of Toledo has extended its restriction on nonessential University-sponsored travel through Aug. 23, 2021. This includes both domestic and international travel.
Any exceptions must be approved by the University president, provost or executive vice president of finance and administration. If you feel your travel is essential, contact your supervisor or department chair.
The University is evaluating its approach for sponsored travel during the fall semester, which begins Aug. 30.
Personal Travel
The University continues to encourage all faculty, staff and students to voluntarily register their travel plans. Individuals who did not previously register travel may also use the form to report their return.
Ohioans are encouraged to review the Centers for Disease Control and Prevention (CDC) guidance when considering travel.
↑ To Top