About COVID-19
Coronavirus (COVID-19)
COVID-19 is a respiratory illness caused by a new coronavirus that was first detected in Wuhan, China, late last year. It is not the same as the coronaviruses that cause the common cold, or the viruses that cause seasonal influenza.
Symptoms
According to the World Health Organization (WHO), the most common symptoms of COVID-19 are fever, tiredness and a dry cough. Other symptoms may include muscle aches and pains, sore throat, diarrhea, conjunctivitis, headache, loss of taste or smell and a skin rash. Serious symptoms include difficulty breathing or shortness of breath, chest pain or pressure, and loss of speech or movement. Anyone experiencing these serious symptoms should seek immediate medical attention. The WHO notes that about 80% of those who are infected recover without requiring specialized treatment.
On average it takes five to six days for symptoms to show after someone has been infected.
Experts continue to learn about COVID-19, but the virus is thought to spread mainly from person to person through respiratory droplets produced when an infected person coughs, sneezes or speaks. The U.S. Centers for Disease Control and Prevention (CDC) notes being within approximately 6 feet of someone with the illness for a prolonged period of time or having direct contact with infectious secretions (such as being coughed on) are the most common ways the infection is spread. It is important to note that experts believe the virus can be spread by individuals who have been infected but are not showing symptoms.
It is possible the virus can be spread from contact with infected surfaces, but the CDC says this is not the main way the virus spreads.
Prevention
The CDC recommends people take the same preventative actions they would for any respiratory disease.
Maintain good social distance (6 feet or more).
Avoid contact with people who are sick or may have been exposed to the virus. Avoid touching your eyes, nose and mouth.
Wear a cloth face covering or mask when in public, especially when social distancing is not possible.
Wash your hands often with soap and water for at least 20 seconds.
If soap and water are not readily available, use an alcohol-based hand sanitizer with at least 60% alcohol.
Clean and disinfect frequently touched objects and surfaces using a regular household cleaning spray or wipe.
There is currently no vaccine to protect against COVID-19, though researchers are working to develop one.
The University of Toledo has developed the Rocket Prevention Principles to ensure we are providing a safe campus environment for our employees, students and guests.
↑ To Top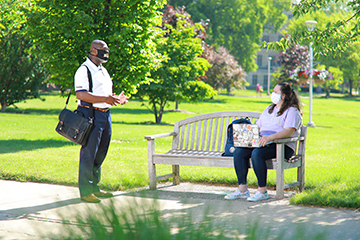 Important Links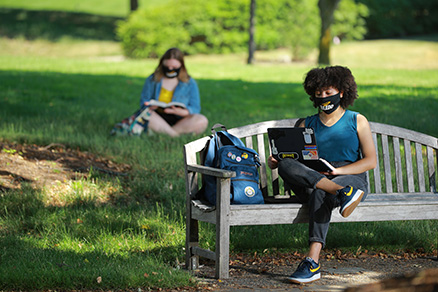 Health and Safety
Self-Care Guidance
If you think you have been exposed to COVID-19 and develop a fever at or above 100 degrees Fahrenheit, cough, chills, fatigue, shortness of breath or other COVID-19 symptoms, the Ohio Department of Health advises you should call your healthcare provider for medical advice. Your healthcare professional will work with guidelines from local and/or state public health officials to determine if you need to be tested for COVID-19.
The CDC also has a "self-checker" tool available online to help with decisions about seeking appropriate medical care.
For those who are mildly ill, the Ohio Department of Health offers the following guidelines:
Stay at home. People with mild symptoms from COVID-19 are able to recover at home. Stay at home except to get medical care. Do not visit public spaces, and avoid using public transportation, ride-sharing or taxis.
Monitor your symptoms and stay in touch with your doctor. Seek medical care right away if your illness is worsening — for example, if you have difficulty breathing. Call ahead before you seek medical care. Call 911 if you have a medical emergency and notify the operator that you have or think you might have COVID-19. If possible, put on a face mask before medical help arrives.
Avoid other people and pets. As much as possible, you should stay in a specific "sick room" and away from other people and pets in your home.
Wear a cloth face covering.  While around other people or animals, cover your nose and mouth with a cloth face covering. Try to maintain at least a 6-foot distance from others. You don't need to wear a face covering if you are alone.
Quarantine/Isolation
Quarantine: Individuals who have come in close contact with someone who has COVID-19 should quarantine for 14 days, per CDC guidelines.
Isolation: Individuals who have tested positive for COVID-19 should self-isolate for at least 10 days, per CDC guidelines.
As the University has previously communicated, students will not be penalized if they must miss class due to an illness or the need to quarantine. The Office of Student Advocacy and Support will assist students with making any necessary arrangements, and all materials will be accessible remotely. They can be reached at 419.530.2471 or rocketresponse@utoledo.edu.
Employees who are required to quarantine should speak with their supervisor about the possibility of a remote work arrangement. In the event that an employee's job responsibilities cannot be facilitated remotely, the employee will need to submit leave to cover the time off.
Student Health Services
Student health centers are available on both Main Campus and Health Sciences Campus.
Main Campus – University Health Center
The University Health Center on Main Campus is open from 1 to 5 p.m. Monday through Thursday. The center will close following the last day of on-campus classes on Nov. 24 and reopen with the start of spring semester on Jan. 19. Appointments are required for all visits to the University Health Center. No walk-in service will be available. Call 419.530.3451 to schedule a telehealth or in-person appointment.
Health Science Campus – Student Health and Wellness Center
The Student Health and Wellness Center on Health Science Campus will be open from noon to 4 p.m. Monday through Thursday and from 9 a.m. to 1 p.m. Friday. The center is open year-round, closing only Dec. 25 - Jan. 1. Call 419.383.5000 for an appointment.
Pharmacy
Comprehensive pharmacy access is available through outpatient pharmacies on both campuses with multiple locations for ease of access.
Telehealth Services
UToledo students, faculty, staff and their beneficiaries can access on-demand virtual care services for urgent care needs daily from 8 a.m. to 10 p.m. through a partnership with University of Toledo Physicians. Services are covered by UToledo's student health insurance plan and all of UToledo's employee health insurance plans. Depending on the plan, co-pays, deductibles or co-insurance may apply. All other insurance will be billed in line with plan coverage. Individuals without health insurance or who elect to self-pay will be charged $59. Services can be accessed online.
Students enrolled in the University's student health insurance plan administered by Anthem Student Advantage also will have access to telehealth services covered by Anthem.
COVID-19 Testing
UToledo has rapid COVID-19 testing available via The University of Toledo Medical Center for all symptomatic individuals on Main Campus and Health Science Campus. Test results will be available in as little as 24 hours and will be shared with the patient and the Toledo-Lucas County Health Department. Call 419.383.4545 for an appointment. While waiting on test results, the CDC recommends individuals experiencing COVID-19 symptoms stay home and monitor their health.
Insurance will be charged for the test. Students needing financial assistance can receive help by contacting Student Affairs at 419.530.7963. The Toledo-Lucas County Health Department also maintains a list of community testing sites.
UToledo also is partnering with Azova to conduct surveillance testing for COVID-19 throughout the fall semester. Faculty, staff and students will be randomly selected each week for testing. Individuals who are selected will be notified and provided instructions through their UToledo email account. Participation among those studying, working and living on campus, while not required, is highly encouraged. Asymptomatic faculty and staff who are not selected to participate in UToledo's weekly random testing but would like to be tested for COVID-19 can request a test by completing a webform.
Reporting Positive Cases
In the event that a student, faculty member or staff member informs a University employee they have tested positive for COVID-19 or have been diagnosed as a probable case, that employee should instruct the individual to review the CDC guidance on self-isolation and symptom monitoring, and report the disclosure to the appropriate office, depending on whether the ill individual is a student, faculty member, staff member or UTMC employee.
To voluntarily report a positive case, individuals should contact their designated representative:
Contact Tracing
The Toledo-Lucas County Health Department is handling contact tracing for any cases connected to the University.
Individuals who were in close contact (within 6 feet) for a prolonged period of time (15 minutes or more) with someone who tested positive for COVID-19 will need to take precautionary measures, such as 14-day quarantine. The CDC website has additional guidance of what constitutes an exposure and what steps an individual should take following an exposure.
University representatives will provide the health department with information for contact tracing if permissible or required by law. Without identifying the ill individual, University faculty or staff may notify specific students and others that a person with whom they were in contact over the past 14 days has tested positive and that they should take appropriate cautionary measures.
Mental Health
We are all experiencing a lot of change, uncertainty and disruptions of our usual routines. These new challenges give us an opportunity to explore new coping strategies and new ways of connecting. However, it is not unusual to feel stress, nervousness, anxiety or a range of other emotions.
The University of Toledo is committed to helping you stay healthy during the COVID-19 pandemic — and that includes your mental health.
We cannot control many aspects of our current situation, but we can control how we respond. You do not have to feel alone in responding to this unusual situation. You can choose to reach out to talk to someone who can just be a good listener, or who can help you get additional support or crisis assistance.
Additional resources are available through Rocket Wellness.
University Counseling Center
The Counseling Center continues to offer services to currently enrolled students via teleservices from 8:15 a.m. to 5 p.m. Monday through Friday. Appointments can be made by calling 419.530.2426. UToledo students who are experiencing distress needing support after 5 p.m. may call the after-hours support line at 419.255.9585. Or, you can access the Crisis Text line by texting "ROCKET" or "HOME" to 741741.
Employee Assistance Program
If you are feeling anxious from this situation, you may benefit from seeking counseling. Faculty and staff should contact their mental health provider or reach out to the University's Employee Assistance Program (EAP) or call 1-800-227-6007 (Use "UT" as the username).
Lucas County COVID-19 Emotional Support Line
The Lucas County COVID-19 Emotional Support Line is a telephone support service provided by the Mental Health and Recovery Services Board of Lucas County. Calls are answered by individuals prepared to provide emotional support to Lucas County residents who are experiencing anxiety, loneliness, depression or some other emotional or mental health challenges due to the COVID-19 pandemic.
The emotional support line can be reached from 11 a.m. to 7 p.m. seven days a week at 419.442.0580.
Crisis Resources
Suicide Prevention Lifeline — 1.800.273.8255, 24 hours a day
Rescue Mental Health and Addiction Crisis Line — 419.255.3125, 24 hours a day
Childhelp National Child Abuse Hotline — 1.800.422.4453, 24 hours a day
Lucas County domestic violence hotline — 419.245.3324, 24 hours a day
YWCA Domestic Violence Crisis Line — 1.888.341.7386
↑ To Top
UNIVERSITY OPERATIONS
Fall Semester
Aligned with the state's Restart Ohio Higher Education Plan, our pandemic planning teams developed our Rocket Restart plan to promote a safe return to campus for the fall 2020 semester. This COVID-19 recovery response plan is based on the framework of prevention, risk mitigation, continuity of operations, and continued delivery of quality instruction.
Fall semester has been adjusted on the advice of experts in infectious disease and public health based on the possibility of having a second wave of COVID-19 in late fall. On-campus classes began Aug. 17 and will end Tuesday, Nov. 24, before the Thanksgiving holiday. All final exams will be completed remotely the following week, Nov. 30-Dec. 4. UToledo also is eliminating fall break, which was planned for Oct. 22 and 23. Labor Day (Sept. 7) and Veterans Day (Nov. 11) will still be observed. Fall remains a 15-week semester with the dates moved ahead one week.
Course Format
Due to the need to accommodate social distancing measures in classrooms and to provide flexibility for students, UToledo is using multiple course formats for fall 2020 including: face-to-face, remote, online and hybrid/blended.
Study Abroad
Study Abroad has been cancelled for fall 2020.
Human Resources
Flexible Work Arrangements
The University aims to be as flexible as possible with employee schedules during the COVID-19 pandemic while also meeting our obligation to continue to provide the high-quality services expected of our students and others as we return to on-campus operations.
Additional information about working through the COVID-19 pandemic is available on the Working Through COVID-19 website. Employees with questions specific to their individual circumstances should contact their supervisor or Human Resources consultant.
Face Coverings
The University is following an order from the Ohio Department of Health that requires all employees to wear face coverings while at work.
This applies to any faculty or staff member who is working on campus or conducting University business off-site. At a minimum, the face covering must be cloth or fabric and cover the employee's mouth, nose and chin. Medical-grade masks are not required outside clinical settings.
Wearing a cloth mask is meant to slow the spread of the virus, particularly from individuals who may have the virus but are not showing obvious symptoms. There is some evidence that cloth face masks offer a degree of protection against infection, but the primary reason health experts encourage mask wearing is to reduce the chance of infected individuals from spreading the disease.
Employees who are working alone in their assigned work area — such as an office with the door closed — are not required to wear a face covering. They must, however, put a mask on when moving to any other part of the University.
Employees may be granted an exemption if they meet one of several criteria set by the state of Ohio, such as a medical reason or working in a setting in which existing laws or regulations prohibit face coverings. Exemption request forms are available from Human Resources.
Admissions
UToledo is using a test-optional admissions model, which means prospective students are not required to submit standardized test scores such as the SAT or ACT. University leaders have been discussing the policy change and moved forward with a pilot program now as high schools and testing centers across the country are closing to help stop the spread of coronavirus. Additional flexibility will be implemented in the short term due to limited access to transcripts and GPAs amid the closures during the coronavirus outbreak. We will use self-reported grades and GPA to conditionally admit students until final transcripts are available. Select scholarships and highly competitive academic programs may still require an ACT/SAT score.
↑ To Top
Important Links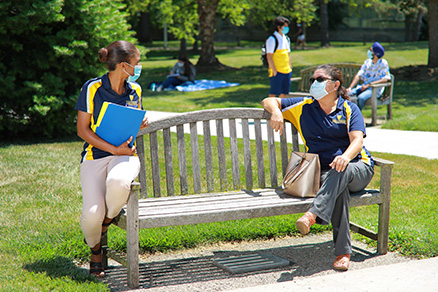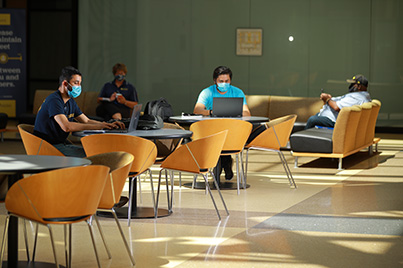 Important Links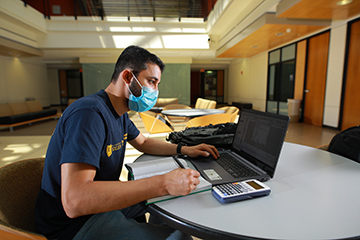 STUDENT RESOURCES
Academic Support
The Center for Success Coaching is available at 419.530.1250 to assist students with questions and concerns related to academic challenges and resource support. Additional information is available on the student success website. 
Financial Support
The University has organized emergency financial assistance programs for current students experiencing financial hardship as a result of the COVID-19 pandemic through the existing Rocket Aid application process.
A student only needs to fill out one Rocket Aid application and the UToledo team will work with each student individually to identify all options available to assist them. This includes funding available through federal relief programs and donors.
Student Support
The Office of Student Advocacy and Support is ready and able to assist students who may need help. They can be reached at 419.530.2471 or rocketresponse@utoledo.edu.
↑ To Top
Housing and Dining
Dining
A number of changes have been made to the on-campus dining experience, with new offerings and enhanced health and safety measures. UToledo through its new partnership with Chartwells is for the first time offering mobile ordering with contactless pickup from many on-campus dining locations.
To promote a safe dining experience, UToledo has installed clear plastic barriers at all points of sale, incorporated distancing measures in both seating areas and lines, and implemented enhanced cleaning measures throughout campus. Masks are required in dining halls except for when individuals are eating. UToledo will continue to follow all state and local guidelines.
For more information on hours of operation, locations and menu items, visit UToledo Dining Services.
Housing
To promote health and safety in our residence halls, UToledo has made several changes for fall semester. All housing in traditional residence halls is now either single or double rooms. Triples and quads have been eliminated. UToledo also is offering a new super single option, which converts a traditional double room into a larger single room.
Common spaces, including lounges and laundry rooms, are marked with maximum occupancy signs and are cleaned on a regular basis. Additional hand sanitizer stations and cleaning supplies for students are provided throughout the residence halls, including in laundry rooms and bathrooms. Lounge furniture has been rearranged to encourage social distancing. UToledo also is limiting items that can be checked out at the front desk.
Face coverings are required in all residence halls, except when a student is in their room or suite. UToledo is limiting visitors to one guest per student. All guests must first register at the front desk.
Should a student require self-isolation due to a positive COVID-19 diagnosis, UToledo has set aside alternative housing to protect the health and safety of all students.
In the event we have to make adjustments to de-densify our residence halls, we will follow the CDC guidelines to ensure we maintain a safe environment for all students.
↑ To Top
Important Links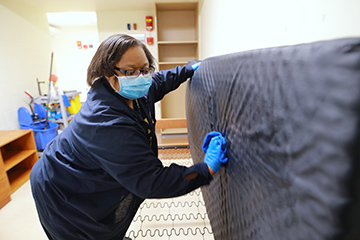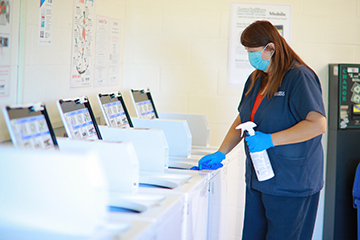 Important Links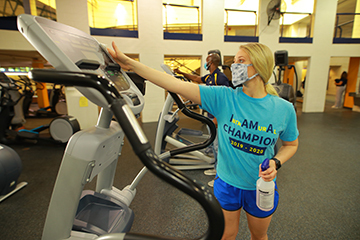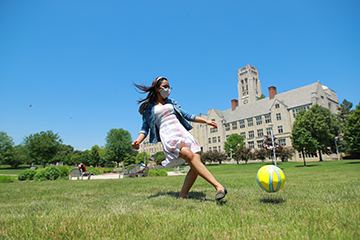 Campus Life
Events and Programs
All campus gatherings and events must follow state guidance for the number of participants (currently 10 people or less) and participants must observe the 6-foot social distancing requirement. Face coverings are required by attendees. Any special gathering/event with over the number of attendees recommended by the state guidance must be approved by the College's dean or the department's member of the Senior Leadership Team. If there is a request for an event with more than 50 people, it must be approved by the University's Senior Leadership Team (SLT). 
If the event is approved and takes place, the names and contact information for all attendees must be collected to facilitate contact tracing in the event of a COVID-19 outbreak.
Rec Center
The Student Recreation Center on Main Campus and Morse Fitness Center on Health Science Campus are open for fall semester with additional measures in place to practice appropriate social distancing and enhanced cleaning procedures to keep campus safe. For more information visit the Recreational Services website.
Rocket Athletics
The Mid-American Conference (MAC) announced Sept. 25 that its 2020 football season will begin on Wednesday, Nov. 4. The league's 12 schools willplay a six-game schedule of league games that will culminate with the MAC Championship Game on Dec. 18 or 19. The MAC Council of Presidents, on therecommendation of the Medical Advisory Panel, voted unanimously to resume the fall football season. A complete 2020 MAC football schedule and other details with respect to the season will be announced at a later date.
The conference had previously announced Aug. 8 its intent to postpone all scheduled fall contests. One of the primary changes that led to reconsideration was the availability of tests and timeliness of receiving test results across the conference, in addition to the changes and improvements of testing protocols.
The conference will implement a COVID-19 testing program requiring four antigen tests per week with all positive tests needing confirmation with a polymerase chain reaction (PCR) test. Any student athlete with a positive test will enter a cardiac screening protocol. The testing protocols will begin Oct. 5.
No general public attendance or tailgating will be allowed at games. The participation of marching band, dance, cheer and spirit squads at football games will be guided by conference protocols at institutional discretion consistent with public health guidance.
All other fall sports, including women's volleyball, soccer and cross country, will be played next spring. Schedules for those sports will be announced at a later date.
↑ To Top
Travel Restrictions
University Travel
Following the recommendation of Ohio Gov. Mike DeWine, the University has suspended all non-essential University-sponsored travel. This includes both domestic and international travel.
Any exceptions must be approved by the University president, provost or vice president of finance and administration. If you feel your travel is essential, contact your supervisor or department chair.
Personal Travel
The University continues to strongly encourage all faculty, staff and students to avoid out-of-state and international travel. If individuals do travel, the University is strongly encouraging them to voluntarily register their travel plans through Dec. 31, 2020. Individuals who did not previously register travel may also use the form to report their return.
In response to Gov. Mike DeWine's recent travel advisory, individuals arriving from states reporting a positive COVID-19 testing rate of 15% or higher will be asked to quarantine for 14 day before returning to class, work or other on-campus activities.
↑ To Top
Important Links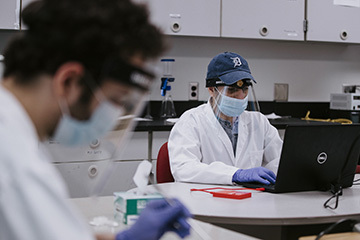 Research
On June 8, research resumed on campus and in the field following protective measures.
See the Research Guidance for COVID-19 website for more detail and regular updates by the Office of Research and Sponsored Programs.
↑ To Top