Training and Education
Diversity and inclusion training allows UToledo employees and other vested individuals an opportunity to increase their awareness and understanding of cross-cultural issues. Participants share in constructive dialogue about cultures, cultural competence, diversity, equity and inclusion.
The Office of Diversity, Equity and Inclusion facilitates faculty and staff trainings. The Office of Multicultural Student Success manages diversity workshops for undergraduate and graduate students.
spring faculty and staff trainings
Allyship — Examining Your Sphere of Influence
Focuses on how to transcend the challenges of Performative Allyship by identifying individual barriers that hinder one's ability to support marginalized populations.
Positionality — How Position and Power Impact Our Interactions
Looks at the effects of conscious and unconscious biases in the development of one's privileged cultural identity. Offers an opportunity to understand how position and power impacts the ability to become a social change agent.
Belongingness — How to Build an Inclusive Campus Environment
Surveys the factors that contribute to one's sense of belonging and the barriers that impede belongingness and the promotion of an authentic, inclusive campus environment.
The workshop dates will be posted at the beginning of spring semester. Please check back then to register.
Customized Training workshops
If none of these workshops satisfies the needs of your unit, we are available to conduct a more curated workshop. Submit a Diversity, Equity & Inclusion Training Consultation Request. We will call you to discuss your needs.
Special training sessions must meet these requirements:
Session must last at least one hour.
Group must have at least 15 people in attendance.
Training needs must not be covered in any of the regularly scheduled workshops mentioned above.
Ally Training Opportunities
Visit the Office of Multicultural Student Success to learn more about:
Safe Place Training
(Un)Documented Student Ally Training
Racial Equity Toolkit
One of the core values of the University is diversity. It is not enough, however, to state that we value diversity. We must also strive toward an inclusive and equitable campus environment. To support this work, the Office of Diversity, Equity and Inclusion has launched this page to serve as a resource to the campus community to support our efforts to move toward racial equity on our campus.
Lexicon of Terms Equity Toolkit
Given the wide range of ever-changing needs associated with an inclusive and equity-focused campus, the Suite will never be "complete" in the sense that is static and seldom changes. We recognize it will require continuous updates and changes. If members of the campus community have suggestions for improvements or additions, please feel free to send us a note at diversity@utoledo.edu.
MEET OUR DIVERSITY TRAINER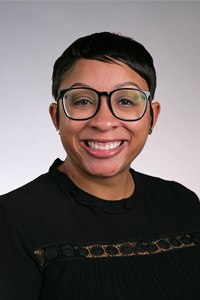 Angelica Johnson
Interim Program Manager- Diversity Trainer