Accreditation
An accredited program is a quality program. Accreditation is a formal peer-review process that assures the quality of the education students receive. Educational institutions, schools or programs volunteer to undergo a periodic review by external evaluators to determine if certain criteria are being met. It is important to understand, however, that accreditation is not a ranking system. It is simply assurance that a program, school or institution meets established quality standards.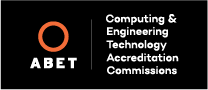 The CSET program is dually accredited by the Computing Accreditation Commission and the Engineering Technology Accreditation Commission of ABET.  ABET is the recognized accreditor for college and university programs in applied science, computing, engineering, and technology. ABET is a federation of more than 25 professional and technical societies representing these fields. Among the most respected accreditation organizations in the U.S., ABET has provided leadership and quality assurance in higher education for over 70 years.
For more information please visit program accreditation on ABET.