Program Accreditation

An accredited program is a quality program. Accreditation is a formal peer-review process that assures the quality of the education students receive. Educational institutions, schools or programs volunteer to undergo a periodic review by external evaluators to determine if certain criteria are being met. It is important to understand, however, that accreditation is not a ranking system. It is simply assurance that a program, school or institution meets established quality standards.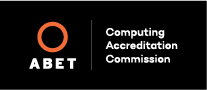 The IT program is accredited by the Computing Accreditation Commission of ABET. ABET is the recognized accreditor for college and university programs in applied science, computing, engineering, and technology. ABET is a federation of more than 25 professional and technical societies representing these fields. Among the most respected accreditation organizations in the U.S., ABET has provided leadership and quality assurance in higher education for over 70 years.

Due to the joint nature of the Information Technology (IT) program, it is also covered by the accreditation for the College of Business and Innovation (COBI) by AACSB International - The Association to Advance Collegiate Schools of Business. AACSB accreditation reviews entire colleges and universities and awards specialized accreditation for professional programs and academic units in particular fields of study. At UT, AACSB accreditation covers the entire COBI at the school level and as such the IT program falls under this umbrella coverage. The college's accreditation was renewed in 2015.