Fieldwork Component and Capstone Experience
The Accreditation Standards for a Doctoral-Degree-Level Educational Program for the Occupational Therapist (Adopted December 2011, Effective July 31, 2013) require a minimum of two levels of fieldwork in entry-level occupational therapy education. These are known as Level I and Level II fieldwork experiences. Level I fieldwork experiences are designed to enrich course work through directed observation and application of academic material. Level I fieldwork sites may include both traditional medical model environments and contemporary practice areas such as adult day care centers, assisted living environments, group homes and wellness programs.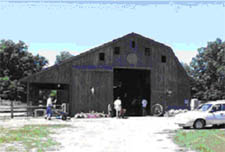 Bittersweet Farms, a residential facility for persons with autism provides a unique fieldwork experience for students.
Level I fieldwork placements begin during the first semester of study and continue through the academic portion of the curriculum. As a participant-observer, students experience practice settings in conjunction with the Model of Practice courses. Level I fieldwork placements are accompanied by a weekly fieldwork course where students discuss and integrate additional skills that will enable them to be proficient therapists. 
Level II fieldwork occurs only after students complete all academic course work and requires a minimum of six months of supervised full-time placement under a qualified occupational therapist. The goal of Level II fieldwork is to provide experiences designed to develop entry level generalists competencies in occupational therapy.
The Capstone Experience culminates in the Capstone Semester, after successful completion of the Level II fieldwork placements and a competency examination. The goal of the Capstone Experience is to develop specialized skills in an area of individual interest that meets the student's professional goals. The Capstone Experience can occur in various areas of professional life:  a) clinical practice such as hand therapy, school/pediatric settings, community settings, etc., b) advocacy such as AOTA national office, c) education such as teaching in an OTA Program or online education, d) program development such as designing new services for a particular group in need of occupational therapy, and e) research through completion of a project designed in collaboration with a faculty mentor. The Capstone Experience allow students to develop contemporary practice skills beyond those expected for entry-level practice.
All sites are carefully screened and selected to facilitate achievement of the program's goals for Practice, Advocacy, Research and Autonomous Decision Making. Sites are located in Ohio as well as other areas of the United States. Every attempt is made to collaborate with each student to provide fieldwork experiences that meet his/her personal and professional needs. In order to maintain the quality of the fieldwork experiences, the Coordinator of Fieldwork Education and Professional Development makes the final determination of all placements. In all fieldwork and capstone experiences, academic, and clinical faculty work collaboratively to maintain the scholarly rigor that is our tradition.