Honors in the News

Honors Student Trustee Concludes Term
6/17/2019
Hedyeh Elahinia was recognized for her service as a student representative for the UT Board of Trustees.

Biodesign Team Advances in Global Competition
6/14/2019
Ysabelle Yrad is set to represent Honors alongside others in New York City against 30 student teams from across the world.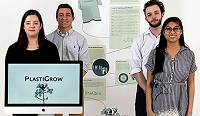 Honors Class Featured in National Journal
6/7/2019
Students in the Honors "Know Your Place" local ecology seminar enjoyed national exposure for their efforts to restore native prairies on campus.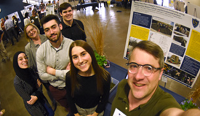 Honors Student Helps Team Win $10,000 Prize
5/3/2019
Shayla Glynn helped design a projection aid that earned the C-See Tech team first place ninth annual UT COBI Innovation Competition.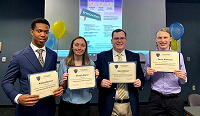 Nursing Honors Graduate Accepted to Johns Hopkins
5/2/2019
Hunter Perrin has landed a spot at Johns Hopkins University to earn a doctorate of nursing.




Honors Students' Internships Lead to Job Offers
5/1/2019
Emily Antypas' internship at The Andersons and Octavio Vazquez-Ederra's with Owens Corning both resulted in permanent positions for these Rockets.

Top Spot Taken in Speech Competition by Honors Student
4/25/2019
Deidra Buenger won first place in the advanced category of the 2019 Japan-America Society of Central Ohio Japanese Speech Contest.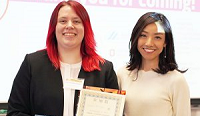 Service Trip to Guatemala an Eye-Opening Experience
4/19/2019
Read about the moving opportunity of Honors student Brianna Becraft to travel over Spring Break to Guatemala with a group of other JSHC students.




Honors Students Win UWC Scholarships
4/17/2019
Elizabeth Konopka and Laura Heckenmueller were recognized for their academic achievement, support of women's and gender issues, and campus involvement.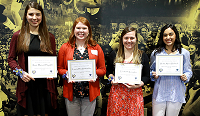 Fulbright Scholar Program Workshops Set
4/16/2019
Campus faculty interested in teaching, researching, or lecturing abroad are invited to receive information on Fulbright awards.

Students Compete for Spot in NYC Biodesign Challenge
4/15/2019
The biotechnology projects of Honors students McKenzie Dunwald, Ysabelle Yrad, and Adam Kemp may advance to an international competition aiming at global solutions.

Detroit Theater Company to Present "Lysistrata"
4/10/2019
The Black and Brown Theater of Detroit gave a staged reading of "Lysistrata" at UT recently, an event co-sponsored by the JSHC.

International Scholar to Discuss Finnish Women's Traditions
4/2/2019
The JSHC hosted Dr. Kaarina Kailo recently, a scholar exploring themes of sustainability, spirituality, globalization, economics, as well as women's and gender studies.

Former NSF Director Visits UT for JSHC Distinguished Lecture
3/19/2019
Dr. Rita Colwell, expert on cholera and algal blooms, will discuss the links between oceans, climate, and human health




Honors Students Make a Difference in Service Abroad
3/13/2019
Read Kristen Buchler's reflections on the JSHC trip to Jamaica over Spring Break.




Dean Uncovers Interaction Between Insect and Plants
2/26/2019
Research in JSHC Dean Appel's lab could be used to protect grapes and the wine industry from pests.

Honors Student Works to Start Chapter of Service Org
1/30/2019
Jade McDaniel has organized a campaign to found a chapter of Camp Kesem at UT to support children of cancer patients.

Honors Student Contributes to Toledo Billboard Art
1/17/2019
The artwork of UT students, including Valerie White, will appear on Toledo billboards as part of an exhibition.

Honors Graduate to Serve as Oak Harbor Mayor in 2019
12/13/2018
Quinton Babcock will serve next year as the mayor of Oak Harbor, OH, fresh off of graduation.




UT Student Receives Google Techmakers Scholarship
11/19/2018
Honors student Naba Rizvi was one of 20 students across the nation to win this prestigious tech award.




UT & TMA Form Partnership to Promote Visual Literacy
10/12/2018
JSHC Dean Appel helps cement collaboration for curriculum to teach UT students how to "speak visual."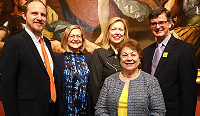 Filmmaker to Screen and Discuss Award-Winning Film
09/27/2018
Documentarian Elaine Sheldon will visit campus to present JSHC Distinguished Lecture on the opioid crisis.




Greening UT Projects Aided by Honors
09/14/2018
Honors instructor Todd Crail and JSHC graduate Linnea Vicari assist in replacing turf grass on campus with native plantings and habitats.

Honors Student Helps Win Biodesign Competition
06/25/2018
Madeline Tomczak competed successfully against student teams from 29 schools across the U.S. and the world.
Honors Student Selected as Fulbright Award Recipient
05/03/2018
Kristen Murray received only one of 54 grants to live and work in Mexico next year as an English teaching assistant.




Prestigious Goldwater Scholarship Won by Honors Student
04/23/2018
Nathan Szymanski received one of the oldest and most competitive prizes in the country in the fields of science and mathematics.




Honors Student Recognized by Society of Professional Journalists
04/20/2018
Madison Humphrey, student producer and reporter for UT:10 News, was among top three finalists for region 4 in 2017 Mark of Excellence Awards competition.




Female Leaders Shaping Toledo Politics Panel Features Honors Student
04/17/2018
Sydney Jones joined a former Toledo Mayor, a Lucas County Auditor, and a Toledo City Council member to discuss their careers as women in local politics.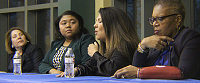 Honors Faculty Member Recognized for Outstanding Scholarship
04/17/2018
JSHC professor Dr. Barbara Mann featured among UT faculty whose work has appeared in leading journals or has significantly influenced their fields.




Honors Student Plants Roots for Bedford Library Garden Program
04/16/2018
Linnea Vicari created a library garden program for Bedford, MI last year using a grant from the Monroe County Environmental Fund.
UT Achieves Campus Pride Index Listing
04/11/2018
JSHC professor and chair of the University's LGBTQA+ Advisory Board, Dr. Glenn Sheldon, detailed UT inclusivity efforts.
Philanthropy and Social Change Topic of JSHC Lecture
04/10/2018
The MacArthur Foundation's Dr. Laurie Garduque discussed the misuse and overuse of American prisons.




Honors Making a Difference: Spring Break Trip to Guatemala
03/22/2018
Ashley Diel recounts her service learning trip with other Honors students over Spring Break to Guatemala.

Science Center CEO to Discuss STEMM Roles for Women
03/19/2018
The Honors College co-sponsored a keynote address by Dr. Tonya Matthews as part of celebration of Women's History Month.

Syrian Refugee Outreach Topic of March 19th Lecture
03/16/2018
UT Honors students held event to discuss their efforts to support the Toledo Syrian refugee community.

Olympic Gold Medalist to Talk Business on Campus
03/14/2018
The Honors College co-sponsored the Edwin Dodd Distinguished Lecture Series in Business Ethics by Olympic gold medal winner and sportscaster John Naber.

UT and White House Alumna Discusses American Policy
02/01/2018
UT Honors alumna Shamila Chaudhary returned to deliver JSHC Distinguished Lecture to campus audience.




Eastern Woodland Native American Drum Group to Perform
11/27/2017
JSHC professor Dr. Barbara Mann assessed the cultural significance of group performance during Native American Heritage Month.

Honors Dean Among Researchers Elected AAAS Fellows
11/20/2017
Heidi Appel and two other UT researchers elected Fellows for American Association for the Advancement of Science.

Leading Native-American Singer-Songwriter Performs
11/07/2017
Joanne Shenandoah, a composer and vocalist from the Iroquois Confederacy and Oneida Nation, visited UT to perform a free, public concert co-hosted by the JSHC.

Poetry Reading Supports UT's First LGBT Scholarship
10/06/2017
The JSHC co-sponsored Rane Arroyo Poetry Read-In celebrated a poet virtuoso and supported LGBT students.

Honors College Co-sponsors Banned Books Vigil
09/27/2017
UT celebrated its 20th annual Banned Books Vigil to celebrate the right to read and think freely without censor.

ABC News Veteran Shares Inspiring Story at JSHC Lecture
09/18/2017
John Quiñones, ABC News veteran and TV anchor, delivered a stirring message of hope and perseverance.




Honors Student Secures CERN Internship
5/4/2017
Jackson Schall, a UT Honors student, has outshone 1,700 other applicants and earned a summer internship at CERN.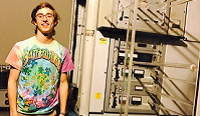 Student Advocates for Clean Drinking Water Worldwide
5/4/2017
Honors student Megan Davidson promotes global water purification efforts - read about her advocacy here.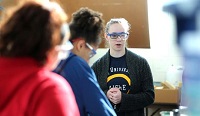 UT Well-Represented at Undergraduate Research Conference
4/5/2017
Honors students Babcock, Gonring, Grubbs, Kumar, Batool & Zehra Mehdi, Post, Roberts, Sagan, Saluga, and Sarsour will present their work at a national research conference.

Conservation and the Liberal Arts
3/27/2017
Samuel Duling recently travelled with a group of other Honors students and JSHC Dean Heidi Appel to the Galapagos Islands - read about the trip here.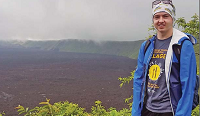 Honors Students to Participate in Service Learning Over Spring Break
3/1/2017
Instead of heading to Miami Beach or the Bahamas for spring break, 20 Jesup Scott Honors College students will travel to Nicaragua and Guatemala to work with "dump dwellers."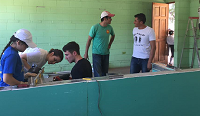 UT Undergrad Discovers Elusive Companion Star
2/28/2017
Nick Dulaney, a UT Honors student, was determined to solve a galactic mystery. Why is there an unexpected, wavy edge on a disc around a bright, rapidly rotating star located 162 light years away from Earth?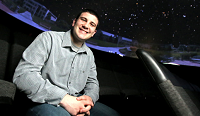 Honors Students Change the Lives of Syrian Refugees
2/21/2017
Farrah and Marah Alarmanazi, UT Honors students, found the UT chapter of SAMS — a non-profit, medical and humanitarian relief organization aimed towards helping Syrian refugees.

UT Hosts "7 Countries, 7 Stories" Open-Mic Night
2/13/2017 | (Page 1)
UT hosted an event to promote community-building through shared stories reflecting on heritage and identity - one co-sponsored by the Honors College and coordinated by Honors students such as Hedyeh Elahinia.
Speaker to Discuss the Value of Promises
2/8/2017
The day Alex Sheen buried his father, he also started an international movement - one that pushes us to honor the promises we make. Mr. Sheen is the second speaker during this year's Jesup Scott Honors College Distinguished Lecture Series.


UT Alumna Leads Public Art Project At Toledo Prison
1/19/2017
UT Honors College alumna and community art coordinator, Emily Numbers, helped develop an art installation at Toledo Correctional Institution to draw attention to criminal justice reform.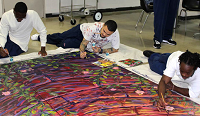 'Shark Tank' Investor, FUBU Founder to Speak at UT
10/12/2016
The man affectionately known as "The People's Shark" - Daymond John - who launched a $6 billion global company from his mother's basement will visit UT to talk about entrepreneurship and the road to success as part of the Jesup Scott Honors College Distinguished Lecture Series.




UT Gives Back to Community Through Big Event
8/29/2016 | (Page 1)
Joseph Leech, UT engineering and Honors student was the director of this year's event Big Event, which saw hundreds of UT student, faculty and staff volunteers spread out across the community and spent the day raking, pulling weeds, painting, picking up garbage, washing windows and more at parks, residential homes, businesses and UT's campuses.
Studying in Cuba: Island's True Beauty Remains to Be Seen
6/22/2016 | (Page 7)
Samuel Duling, an Honors student double-majoring majoring in political science and economics, describes his recent academic trip to Cuba. "Although I thought the Cuba I saw was beautiful, I have the utmost confidence that the island's true beauty has yet to be seen..."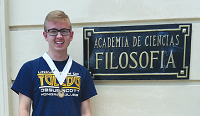 New Dean Named to Lead Honors College
6/8/2016
A chemical ecologist passionate about engaging students in experiential learning will join The University of Toledo to lead the Jesup Scott Honors College. Learn more about Dean Heidi Appel and her plans for the Honors College here!