Professor Elizabeth McCuskey Accepts Joint Appointment at the School of Population Health
December 7, 2018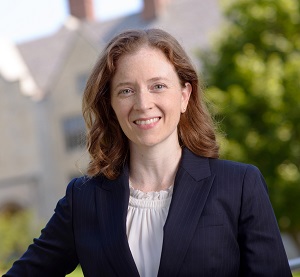 The University of Toledo College of Law Professor Elizabeth McCuskey accepted a joint appointment this fall semester as an associate professor in the College of Health and Human Services, School of Population Health.
Professor McCuskey leads Toledo Law's health law program and serves as co-director of the University's joint graduate degree programs in law, medicine, and public health.
The joint appointment recognizes Professor McCuskey's shared interest in the mission of the School of Population Health and establishes a relationship between the Colleges to enhance academic research, teaching, and engagement.
Professor McCuskey is a nationally renowned expert on health law. She is a recipient of the 2018 UT faculty award for outstanding contributions to scholarship and creative activity over the past three years for her research article, "Agency Imprimatur & Health Reform Preemption" (Ohio State Law Journal, 2017). The article attracted national attention from top scholars in the health law field and was featured in prominent legal blogs and journals across the country. In 2017, she was invited to serve as a visiting professor at Saint Louis University's Center for Health Law Studies. She was also selected as a Health Law Scholar by the American Society for Law, Medicine & Ethics in 2016.
McCuskey teaches civil procedure, jurisdiction, health law, and food & drug law. She serves on the advisory group to the U.S. District Court for the Northern District of Ohio, as well as the UT Opioid Task Force. She earned her bachelor's and law degrees from the University of Pennsylvania.
"Professor McCuskey brings unique policy and interdisciplinary perspectives to her health law classes," said Geoffrey Rapp, associate dean for academic affairs and Harold A. Anderson Professor of Law and Values. "It is not at all a surprise that the School of Population Health recognizes the value in having a nationally recognized expert like Professor McCuskey on UT's main campus."
Dr. Joseph Dake, professor and chair at the School of Population Health, recommended McCuskey for this joint appointment based on her expertise, national recognition in health law, and her role in helping to develop the master of public health track in public health policy and law. The joint appointment is effective for up to five years, at which time it may be renewed.