Professor Lee Strang Awarded Visiting Fellowship at Princeton University
May 1, 2018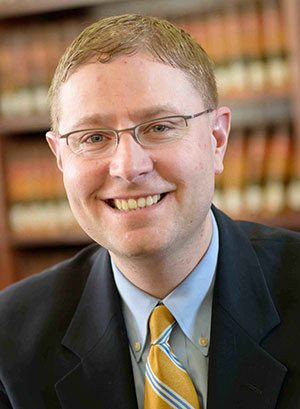 Lee J. Strang, professor of law at The University of Toledo, was recently awarded a visiting fellowship at Princeton University for the 2018-2019 academic year. As a James Madison Program Fellow, Professor Strang will continue historical and archival research on religion and legal education. 
While in residence, Strang will focus on completing his latest book, The History of Catholic Legal Education: Struggles Over Identity. The book will be the first comprehensive historical study of Catholic legal education in the United States.
"This fellowship is a tremendous opportunity to learn from excellent scholars while writing my history of Catholic legal education," said Professor Strang.
Strang is the John W. Stoepler Professor of Law & Values at the College of Law. He teaches in the areas of constitutional law, property law, administrative law, federal courts, and appellate practice. Professor Strang was appointed to the Ohio Advisory Committee of the U.S. Commission on Civil Rights in 2016. The following year, he received The University of Toledo Outstanding Faculty Research and Scholarship Award. 
Professor Strang is a leading scholar on constitutional law and interpretation, property law, and religion and the First Amendment. His publications include "How Big Data Increases Originalism's Methodological Rigor: Using Corpus Linguistics to Recover Original Language Conventions" (UC Davis Law Review, 2017) and Originalism's Promise (forthcoming Cambridge University Press, 2019). He is currently editing the third edition of a unique multi-volume "modular" casebook, Federal Constitutional Law, for Carolina Academic Press. 
"The award of this prestigious fellowship recognizes both Professor Strang's scholarly achievements to date and the promise of his scholarship in the future," said Dean D. Benjamin Barros. "Already a nationally-recognized expert in constitutional law, this fellowship will allow Professor Strang to work on an important new book on Catholic legal education."
The James Madison Program in American Ideals and Institutions is sponsored by the Department of Politics at Princeton University. The program is dedicated to the pursuit of scholarly excellence in the fields of constitutional law and political thought.