dual-degree program: bs biology - ms bioinformatics
Payscales for bioinformatics careers
Summary of need for trained bioinformaticists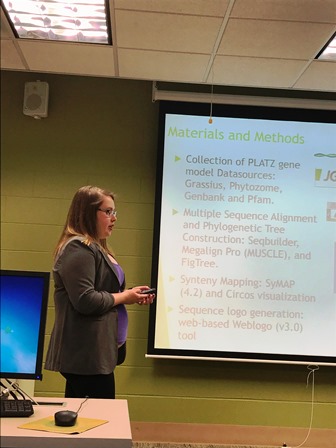 Jennifer K. Holmes, BIPG Pipeline Student
Jennifer successfully defended her thesis on April 25, 2017. The title of her thesis was, "A Phylogenetic Analysis of 
Platz Transcription Factors in Plants".  Jennifer's major advisor is Dr. John Gray, and her Committee members are Dr. Alexei Fedorov and Dr. Scott Leisner.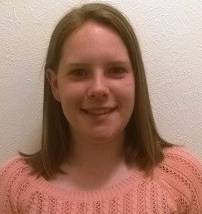 Nicole Carr
Thesis Title: "Data Pooling to Identify Differentially Expressed Genes in Lung Cancer of Non-Smokers" (Advisor, Dr. Sadik Khuder)
BS-MS Pipeline Program
Nicole did her Internship at Progenity, Inc., Ann Arbor, MI
She was offered a position at Progenity, Inc., before graduation, and is currently a Bioinformatics Associate at Progenity, Inc.

Following is Nicole's statement written before graduating, while still a student in the Pipeline Program:
My name is Nicole Carr and I am currently in the graduate portion of the MSBS Pipeline Program in Bioinformatics. I have been extremely impressed with the program as a whole. At the undergraduate level, the dual-degree program allowed me to begin taking my graduate courses early, and served as a great stepping-stone into graduate school. The academic transition was efficient and has eliminated both extra time and funds it would have required for me to complete both degrees in the more traditional method. It has also been a rewarding experience as the thesis research topics, conferences, and various other opportunities often center towards improving the human condition. At this point, I am preparing to participate in an internship acquired through the program, which will have a distinct advantage for my future career goals. Above all, the experienced faculty and staff involved in the program have helped me every step of the way and have fashioned a very successful program.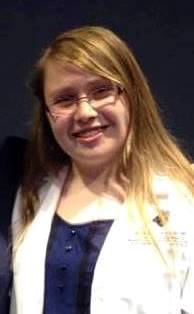 Jennifer Holmes  
(BS-MSBS Pipeline); Dr. John Gray, Advisor
Undergraduate degree in Biology in progress, expected Spring 2017



My name is Jennifer Holmes and I am currently an undergraduate student with a major in Biology and a minor in Chemistry. I entered the Biology/Bioinformatics Pipeline program, because I am very interested in doing medical research that is computer- based. My main focus is joint disorder and cancer research. Joint disorder is my main focus due to the fact there are not many treatments for TMJ (transmandibular joint disorder). The main ways to treat TMJ are: physical therapy, a brace or joint replacement surgery. I was diagnosed with TMJ back in July of 2013, and with the help of my physicians, we are trying to fix my joint without surgery. My goal in medical research would be to find a way to cure TMJ without surgery. I also wish to help find a cure for cancer-especially breast cancer. Before I knew of the pipeline program, I was a dual major with my majors being Computer Science Engineering and Technology, along with Biology. I have always loved computers, and I have always had an intense interest in the human body and how it works. My biggest influence would be my parents, my mother is a Medical Laboratory Technologist, and my father is a Computer Science Engineer. I've always wanted to combine the two together, since the medical field and computers are two of the things I love, and I feel the best path to take is with the Pipeline Program.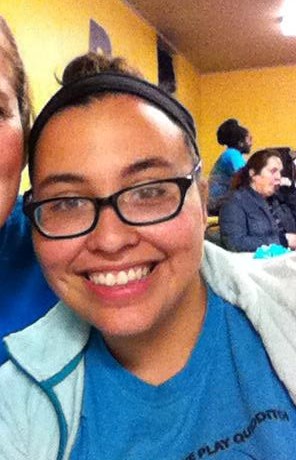 Jessica Torres
(BS-MSBS Pipeline); Dr. John Gray, Advisor
Undergraduate degree in Biology in progress, expected Fall 2017


 
I started out my undergraduate career majoring in Biology with the anticipation of going to medical school. I was never really passionate about it, nor had I been dreaming of being a doctor since I was small. I just liked science, but did not really know what kind of career I could have involving science that didn't involve being a doctor or teaching. I was first introduced to the field of Bioinformatics when I took Dr. Gray's molecular genetics lab. I remember him being really passionate about Bioinformatics, and about research in general. That excitement was what first sparked my interest, and as the semester went on I began it enjoy it more and more. I found the work we did in the lab challenging, but fulfilling, and nothing was more satisfying than applying techniques I'd only briefly learned about in lecture, and actually getting results that I could interpret and understand. This was really the first time I considered a career in research, and as my experience in lab techniques grows, the more excited I become at the prospect of learning more about Bioinformatics, and working in this field for the rest of my life.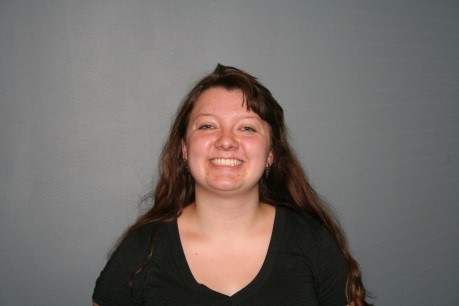 Rachael Wasikowski
(BS-MSBS Pipeline); Dr. John Gray, Advisor
Undergraduate degree in Biology in progress, expected Fall 2017
I applied for the Bioinformatics Pipeline Program, because I find this field fascinating. Back in the early days of high school, all of the guidance counselors put pressure on me to decide what I wanted to do with my life. I could never once give them a consistent answer. I wanted to be anything from a Windmill Designer, to a Psychologist, to a Physician. Although I loved science and math, I could never decide what I actually wanted to do with either. When I enrolled in the University of Toledo, I declared my major Biology/Pre-Med, with the idea that I would become a doctor. The reality of that choice was harsh. I was interested in the classes that I took my Freshman year, but the dream of becoming a doctor quickly died when I met with actual medical students. I did not know what career option I wanted, but I remained optimistic, because I could sign up for advanced, more interesting biology classes my second year. Sophomore year of college brought out a dramatic change in me. I signed up for Molecular Genetics my first semester and fell in love with it. I have always been interested in genetics, and I was thrilled that there was a class dedicated to the study of DNA. I knew that I wanted to learn more about DNA when the course because more difficult and more interesting. I chose to take the lab course along with it, and found that research interested me. Along with the physical aspect, I also enjoyed working with computers. Pursuing this thought even further, I applied to work as an undergraduate in Dr. Gray's lab. After learning the ropes and testing the waters, I found that I truly love bioinformatics, and I want to dedicate my life to it.
DUAL-DEGREE (PIPELINE) PROGRAM
The Bioinformatics & Proteomics/Genomics Program along with the Department of Biological Sciences offers a Dual-Degree BS/MS in Biological Sciences and Bioinformatics. This "Pipeline" program is available to students at the end of their second year at the University of Toledo. The pipeline program is part of the new UT School of Biomarker Research & Individualized Medicine (BRIM), and the Colleges of Medicine & Life Sciences and of Natural Science & Mathematics.

How the Pipeline Program Works:
IN 5.5 YEARS, you can receive a Bachelors degree in Biological Sciences AND a Masters degree in Bioinformatics
If you are in UT's BSc program in Biological Sciences, or University of Findlay's biology degree program, you can take up to 9 semester credit hours of graduate coursework that can count towards BOTH the BSc degree AND the MSc in Bioinformatics. Getting both degrees this way allows you to:
Save between 1 and 2 years over what it would take to earn both degrees separately
Save the tuition and housing costs associated with that extra time
The GRE is not required for the pipeline program.
Improve job prospects or your chances of getting into top-tier graduate/professional programs
An online video about UT's program on YouTube.  (https://www.youtube.com/watch?v=F7ZcXsUrk4M)
APPLYING TO THE BIOLOGY-BIOINFORMATICS PIPELINE:
The UT Biology-Bioinformatics Pipeline offers you two degrees in rapidly-growing and high-demand fields – a B.S. in Biological Sciences, and an M.S. in Bioinformatics. The time savings comes from:
Counting nine credit hours (three 3 cr Bioinformatics courses) towards both degrees, as allowed by the State of Ohio.
Exemption for the M.S. of certain required courses, based on having taken required Biology courses.
WHEN TO APPLY:  
You need to have declared your major as biological sciences, but can apply at any time.
You must have completed at least one term at UT, including having taken at least one UT biology course. In other words, AP test-based and transfer credits are acceptable, but we would like to see evidence of your performance at UT.
If you apply as a freshman (second-semester), sophomore or junior, you can get the fullest benefit of shortening time-to-graduation offered by the pipeline. Also, if you qualify for Choose Ohio First support (Ohio residents), the earlier you enter the pipeline program the more terms of tuition scholarship you can obtain.**
If you apply as a senior, it is too late to benefit from the pipeline's counting of 9 credit hours towards both degrees,

but

you can still be considered for early decision regarding the bioinformatics masters program and get a "running start" on the masters degree.
**Students who accept Choose Ohio First tuition scholarships sign a promissory note, indicating that the scholarship funding is converted into a repayable loan ONLY IF the student chooses not to proceed with the masters portion of the pipeline curriculum. Students are free to enter the pipeline program without COF support.
REQUIREMENTS:  
A completed application form (

click here to download

).
A total GPA of ≥3.0 (4-point scale), and ≥3.3 in biology courses taken to date.
Two letters of recommendation. One must be from your advisor in the Department of Biological Sciences, and the other can be from any UT faculty member who knows you well enough to write a meaningful letter. These letters can be a few sentences, that simply indicate why the advisor / faculty member feels you would be successful in the pipeline program.
A short resume (high school, employment, interests), and a paragraph on why you would like to enter the Biology-Bioinformatics pipeline program.
You do NOT need to take the GRE.
If you are an international student, or your native language is not English, then TOEFL scores are needed. (We require a score of 550 or higher for the paper-administered version, 213 or higher for the computer-administered version, and 80 or higher for the Internet-administered version).
QUESTIONS:   Contact any of the following.
Amanda Seabolt-Martin, Biological Sciences Academic Advisor         Amanda.Seabolt@utoledo.edu
Jo Anne Gray, Bioinformatics Program Secretary                                BRIMEducation@utoledo.edu
Dr. John Gray, Biological Sciences Pipeline Advisor                            John.Gray5@utoledo.edu
Dr. Bob Blumenthal, Bioinformatics Program Director                        Robert.Blumenthal@utoledo.edu


University of Findlay: Complete Application form and submit
Funding: 
Even with no scholarship support, this program will save you a substantial amount of money compared to separately completing the two degree programs (see Cost Comparison below). In addition, some tuition scholarships and stipends are available for the graduate portion of the pipeline program. 
COST COMPARISON:  Pipeline vs. BS + MSBS Taken Separately
$56,625 = approximate cost of tuition only for BS and MSBS taken separately
$49,103 = approximate costs of tuition only for the Pipeline Program
$7,522 Savings.
Complete financial details can be found at the UT Treasurer's Office here.
List of Mentors for BIPG Students

List of Approved Electives for BIPG Students (in PDF format)


AFTER BEING ACCEPTED INTO THE PIPELINE PROGRAM:
* Begin to follow pipeline curriculum as you register for classes.
* Choose your advisor during your 4th year spring term. Together you will choose your Thesis Committee Members.
* Plan of Study form must be completed and submitted during your 4th year spring term. 
* Graduate Research Advisory (GRAD) form must be completed and submitted during your 4th year spring term.
* Students need to apply to the Graduate School before the 4th year fall term. Click here to apply. This is required, as you will being taking ALL graduate courses in the spring term of your 4th year. Documents you will be required to submit: Online application, Statement of Purpose, resume. Recommendation letters submitted when you applied to the pipeline can be used.
*Please Note:  After your 4th year fall semester, ANY UNDERGRADUATE SCHOLARSHIPS YOU HAVE WILL NO LONGER BE APPLICABLE.  This is because you will begin taking all graduate courses in your 4th year spring semester.  If you are awarded a stipend at this time, it will be funded by the Graduate School.
 * Qualifying Exam should be taken by end of, or immediately following, 4th year spring semester. See Jo Anne Gray to schedule.