Message from the Chair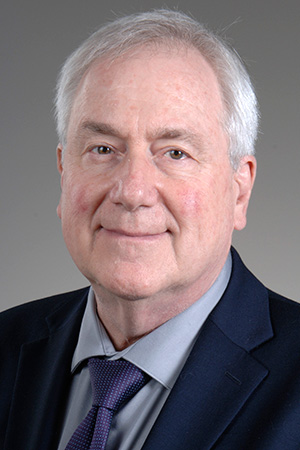 Thank you for visiting the website of the Department of Medicine of The University of Toledo College of Medicine and Life Sciences. This is an exciting time for the Department of Medicine at UToledo for many reasons, not the least of which is the academic affiliation that was executed about 4 years ago between the College of Medicine & ProMedica, a large national health care system based in Toledo.  That landmark agreement is transforming both institutions and has the potential to dramatically improve medical care, medical education, and health care research in our community in ways never previously contemplated.  It has been both a challenge and a personal pleasure for me to participate in that process and to help guide the Department as we work collaboratively to reach our full potential clinically and academically.
One major goal of the academic affiliation is to transform ProMedica Toledo Hospital from a large, busy, urban community hospital into a full-fledged academic medical center and UT's major teaching hospital.  Four years into the affiliation we are well along in that process.  Important components of this evolution are: 1) recruiting over 100 physicians that practiced at Toledo Hospital as new clinical faculty in the department and incorporating them into our teaching rotations, 2) recruiting a large number of new full-time faculty into virtually every division in the department, 3) developing robust in-patient and outpatient practices at Toledo Hospital campus for many of the full-time faculty in medicine, 4) opening a new multispecialty outpatient practice and resident and fellow teaching site on the Toledo Hospital campus (opening April 2019), 5) adding and expanding fellowships and launching a new Primary Care Track within the Internal Medicine Residency, 6) working with a large new integrated electronic medical record (EPIC) and 7) moving into a brand new adult medicine hospital (the Generations Tower, opening July 2019).   
One important goal of these changes is to transition the majority of the resident and fellow inpatient and outpatient teaching rotations from the University of Toledo Medical Center to the ProMedica Toledo Hospital.  However our aim is not just to move existing rotations to a new institution. Instead, we have established and are creating new teaching teams and novel learning environments that significantly expand the depth and breath of clinical and educational experiences available to our trainees.  So far the feedback from students, residents, and fellows working at Toledo Hospital has been outstanding and the educational opportunities will only continue to expand and improve going forward.  
In addition to the positive impact on our training programs, the academic affiliation with ProMedica is producing benefits and creating new opportunities in several other areas as well. The University Medical Center, UTMC, is also evolving as an institution, focusing on primary care, consultative care, and behavioral health.  UTMC and the department are committed to and recognize our responsibility to provide first rate clinical services to our community of South Toledo and to the region.  Importantly, UTMC will remain an active, secondary training site for students and housestaff, and a practice site for our faculty.  Research programs in the Department are growing as well, both in the laboratories on the University of Toledo Health Science Campus, and for clinical translational research at both Toledo Hospital and UTMC.  Important areas of focus for research in medicine include but are not limited to cancer biology, cancer therapeutics, and drug development; human genetics and precision medicine; and cardiovascular and renal disease and their interaction in processes like inflammation and organ fibrosis.  Significant investments are being made to attract talented physicians and scientists, to expand laboratory and clinical research programs, and to attract significant new external funding for research to this community.
Whether you are a student, resident, fellow, physician, scientist, or educator, I welcome your interest in our Department.  I invite you to explore the opportunities available at every level in Medicine at the University of Toledo and to consider joining us as we work collaboratively to provide outstanding care to our patients, advance medical knowledge, and train the next generations of physicians and other health care workers for our region and the world.  There could not be more opportunity or a better time than now to be here.  
Lance D. Dworkin, M.D.
Professor, Chair, & Mercy Health Endowed Chair in Education