Algal Bloom 2016
Dr. Thomas Bridgeman and members of his Limnology Lab continue to focus their research on environmental problems in western Lake Erie that include studying Harmful Algal Blooms (HABs) via UT's water quality sensor and buoy, and the study of hypoxic conditions in western Lake Erie. 2016 was the second season for UT's water quality buoy located at Little Cedar Point in Lake Erie's western basin. The buoy is placed in the lake for HABs season that runs mid-May through September. Bridgeman collaborates with NOAA, BGSU, Heidelberg University, OSU-Stone Lab and various municipal intakes and pump stations. Daily data results are available during summer months at Great Lakes Observing system website (http://glos.us).
Water Quality Buoy and Network for the western Lake Erie Basin.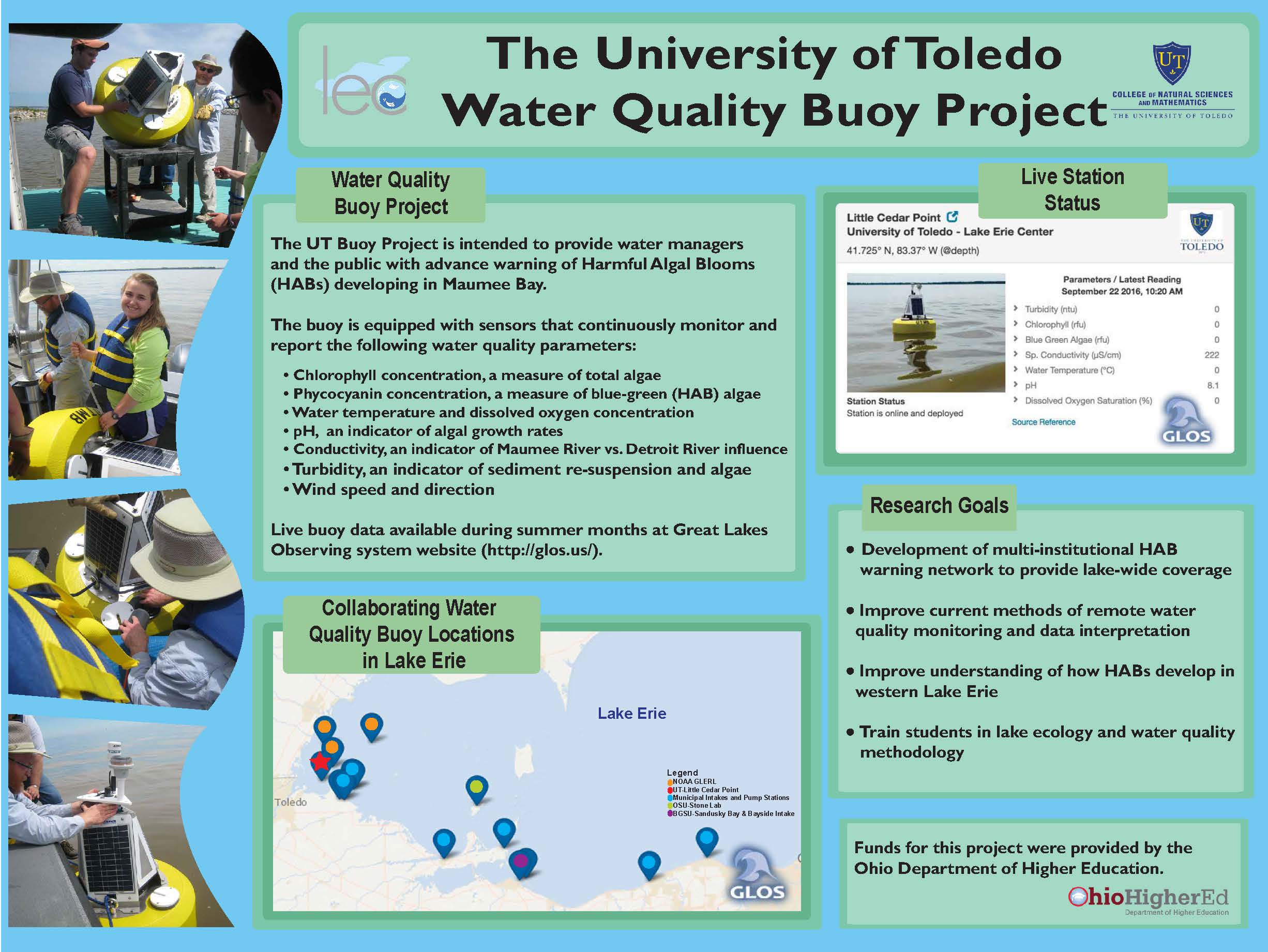 WTOL 11 joins Dr. Bridgeman and his lab members as they return the newly calibrated sensor to the buoy.


Pamela Struffolino, LEC Research Operations Manager and Research Technician for Dr. Daryl Dwyer's ERRL lab along with Ph.D. Candidate, Ryan Jackwood are collaborating with the USGS on developing a predictive model for microcystin.
 The University of Toledo produced video highlighting water quality research.
WEBSITE LINKS OF INTEREST
NOAA's Experimental Lake Erie Harmful Algal Bloom Bulletin November 2016 http://www2.nccos.noaa.gov/coast/lakeerie/bulletin/bulletin_current.pdf
National Weather Service, NOAA- Lake Erie Harmful Algal Bloom, October 9, 2016, http://www.weather.gov/cle/LakeErieHAB
Toledo Blade article "Algae forming in Lake Erie despite drought" by Tom Henry, August 20, 2016.
NOAA, GLERL, CILER, and Great Lakes Restoration's Experimental Lake Erie HAB Tracker.
NOAA, partners predict smaller harmful algal bloom for western Lake Erie, July 7, 2016. http://www.noaa.gov/media-release/noaa-partners-predict-smaller-harmful-algal-bloom-for-western-lake-erie 
NOAA predicts 2016 harmful algae bloom for portions of Lake Erie (graphics) July 5, 2016. http://www.cleveland.com/weather/blog/index.ssf/2016/07/noaa_predicts_2016_significant.html
City of Toledo's Water Quality Dashboard that provides up to date information to the public regarding the quality of the City of Toledo's drinking water according to the Ohio EPA guidelines http://toledo.oh.gov/services/public-utilities/water-treatment/water-quality/ and for a monthly listing of Microcystin Action Level Data visit http://toledo.oh.gov/services/public-utilities/water-treatment/microcystin-action-level-data/
US Army Corps of Engineers Engineering for Dredging and Dredged Material Management, Published July 31, 2015
Development of a 14-acre site at the Great Lakes Confined Disposal Facilities in north Toledo for the new Great Lakes Dredged Material Center for Innovation Development. 
See how far the City of Toledo has come in fighting to remove raw sewage from our rivers and lakes as part of the Toledo Water Initiative http://www.13abc.com/home/headlines/Toledo-Water--Sewage-Clean-Up-Rolls-On--377494151.html
Satellite images by NOAA https://coastwatch.glerl.noaa.gov/modis/modis.php?region=e&page=1
NOAA Great lakes Environmental Research Laboratory (GLERL) announces its updated Harmful Algal Blooms and Hypoxia website, featuring real-time monitoring data, algal toxin concentrations and updated forecasts of bloom size and extent as well as a perspective of vertical mixing algal blooms in water. 
SAMPLING IMAGES
Dr. Thomas Bridgeman and Limnology lab members monitoring algae in western Lake Erie basin.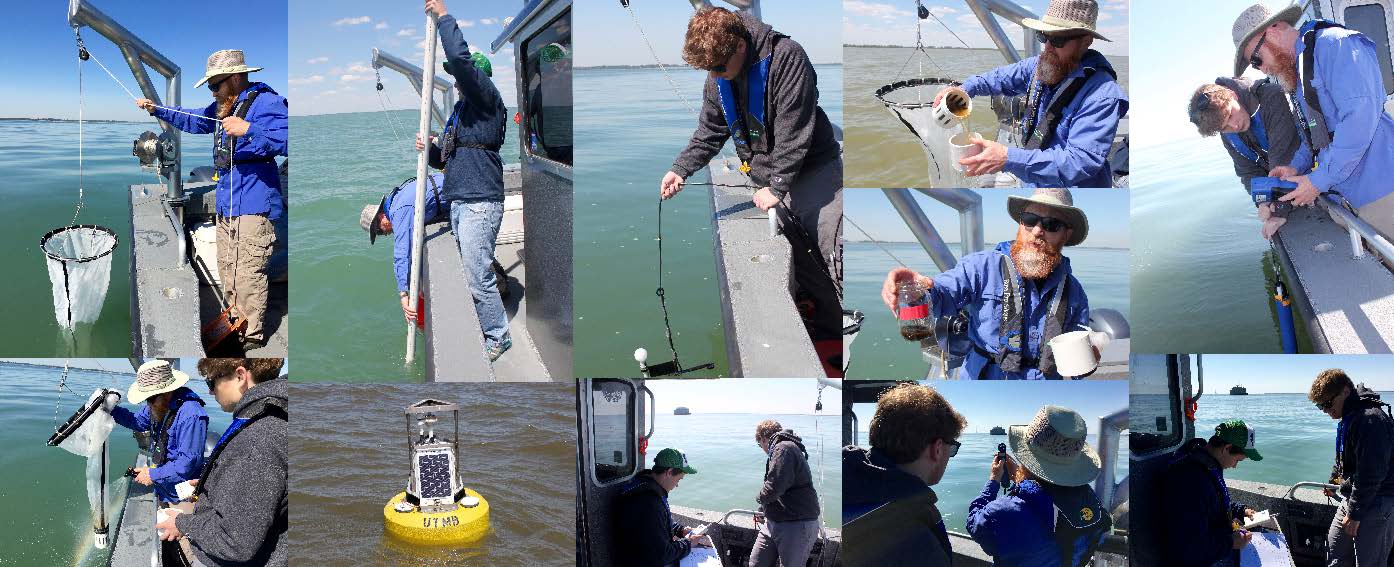 Two students in Dr. Daryl Dwyer's Environmental Remediation and Restoration lab along with a student from Xavier University test the waters of Lake Erie at Maumee Bay State Park's Lake Erie Beach for microcystin in collaboration with the USGS, July 14, 2016. Images compliments of Donna Francy from USGS.