Image Uploading Instructions
Sizing the Images
Before uploading the image you need to make sure it is the right size.
All images must be 72dpi (Dots Per Inch). In order to make them 72dpi in resolution, use Photoshop or free sources like Pixlr Online Photo Editor. Pixlr web app is built to create web images and hence automatically converts your image to 72dpi while saving it out.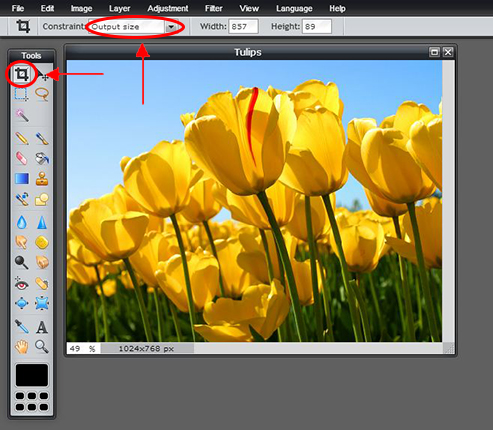 To crop your image to the desired dimension :
Use the crop tool located in the first row of "Tools" after opening you image in the web app.
You will need to select "Constraints" drop-down on the top menu to "Output Size" and enter the size in the boxes provided to the right of it.
Drag on your image and select the area to crop and double click the image to confirm your crop.
Save your image by clicking on "File - Save as"
The appropriate dimensions are given below:
Top Level Landing page rotating slideshow images: 560 pixels wide x 285 pixels heigh
3 column snippet images: 455 pixels wide x 225 pixels high 
Uploading Images
Images must be placed in "images" folder and can only have a gif, jpe, jpg or png extension.
Additionally, file names MUST be all lowercase and alpha-numeric with no spaces or special characters. Also use short, descriptive file names.

Steps to Upload an Image:
Select "Pages" from the top left to navigate the UT web site and navigate to the folder that you wish to add an image or file.
Select "Upload" and use the "Browse" button to then navigate to the file you wish to upload.
A screen will confirm your image and/or files have been uploaded.
NOTE – images are uploaded directly to the production (live) site, so there is no need to publish these files. Additionally, you will not see images and files in the folders on the staging site. Click on the Production Tab in upper-right corner to view them in the folder.
Image Source
 Search for images of students, locations, events, etc. in the University of Toledo's Photo System.