We want to hear from you.
If you have questions or want to learn more about the College of Pharmacy and Pharmaceutical Sciences,
Please contact the Office of Student Affairs at 419.383.1904 or email your questions to pharmacy@utoledo.edu.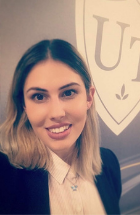 Gina Gass, Enrollment Management Specialist.
To Learn More about our programs
Visit the college. This is also known as the 1:15 visit. When you schedule your campus visit through admissions, be sure to check the college visit box so you can tour the Health Science Campus and meet with me to learn about the programs we offer.
Attend some of our programs. We offer several fun activities for prospective students to come to campus, learn something new, and meet current students!
Request a school visit. I love to meet students, wherever they are! If you want to schedule a school visit, complete the form and I will visit your school during my travel season!
Attend college fairs. I might be in your area soon! Check back soon to see which college fairs I will be attending. Be sure to stop by my table and have
Call or email me any time. I am happy to answer any questions you may have about The University of Toledo. Go ROCKETS!
Find out about transferring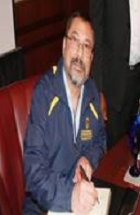 José Treviño, Director of Transfer Services
My name is José Treviño and I am the Director of Transfer Services and Recruitment for the College of Pharmacy and Pharmaceutical Sciences here at The University of Toledo.
I work with all students, parents, teachers and guidance counselors who have questions regarding our programs, and I focus on assisting transfer students who may have prior academic history. I am able to look at your transcripts and give you an idea of what you need to do next if to pursue a pharmacy or pharmaceutical science degree at UToledo.
You are welcomed to forward an electronic copy of your transcripts to jose.trevino@utoledo.edu. Next, call 419.383.1904 and ask for an appointment with me.
I look forward to assisting you with all your questions regarding all our programs in the College of Pharmacy and Pharmaceutical Sciences. Go ROCKETS!
Schedule a Tour
Schedule a tour of the classrooms, laboratories and facilities in The University of Toledo College of Pharmacy and Pharmaceutical Sciences. Tours are available Monday through Friday at 1:15 p.m., in conjunction with the admissions presentation at 10:00 a.m. and campus tour at 11:00 a.m. or 2:30 p.m.
Prospective students and their families may also meet with college representatives to discuss specific program information during the 1:15 p.m. appointment. 
To make a reservation for a campus visit, call the Office of Undergraduate Admission at 800.5TOLEDO or register online.
We can't wait to see you on campus!