The KEEN Program - Freshman Angel Pitch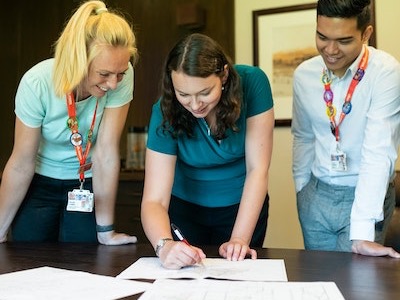 Angel Pitch is the annual event designed to provide first-year engineering students with real-world ideation and entrepreneurial experience. The event is focused on the three C's of the KEEN program offered by the College of Engineering - Curiosity, Connections, and Creating Value.
Contestant Selection:
All freshmen students are invited to participate in the event. Six presentations are chosen to compete in the final round. The winning teams are awarded a cash prize, which can be used to further the development of their project.
2020 aNGEL pITCH Prize Winners
First Place and winner of $1,000
Project: Beverage Barricade
Team Members: Morgan Schuld, Camryn Foppe, Jacob Lombardi, Riah Short 
Second Place and winner of $500
Project: Dry-n-Go
Team Members: Elijah Karl, Neil Grmek, Dylan Pester, Luke Chesick
Third Place and winner of $250
Project: ToPS Paper Dispenser
Team Members: Alexander Peterson, Michael Messer, Luke Risko, Russell Volk, Tyler Welter
Honorable Mention:
Dog Wheelchair Project: Benjamin K. Amstutz, Rachel E. Clemens, Nathan R. Demuth, Sarah M. Pinchot
 The Second Floor: Nicholas X. Maleski, Treyquan M. Eubanks, Seth N. Frantz, Adam M. Gunkel
The Grabber: Zane Bates, Alexis Dusek, Afrodite Georgakopoulos, Katherine Knight, Lauren Mathes, Evan Roebke, Corrine Ruble
Click here to watch all six presentations and opening remarks from Dr. Scott Molitor.
For additional information about Freshman Angel Pitch, please contact us today. 
Rocket Innovations is proud to partner with the College of Engineering; together we deliver non-technical professional skills training. We've also worked together to create a Student Incubator, in which participants learn how to take a project from the idea stage to potential market entry.
We teach students both how to be an entrepreneur and also how to bring entrepreneurially-minded learning and other essential skills to all they do in their careers.
We support the College of Engineering as one of a select few partner institutions from the Kern Entrepreneurship Education Network, (KEEN). KEEN is dedicated to preparing undergraduate engineering students for success with the Entrepreneurial Mindset.
Students in our programs are taught to be lifelong learners and obtain the professional skills they will need to use in their careers and personal lives post-graduation.