African American Initiatives
We are here to support your success as you navigate the road to graduation. We offer tools and resources you may need along the way.
Peer and professional mentorship
Academic and social development
Campus and community resources
Our programs and services focus on recruitment and retention of African American students.
---
Black and Latino Excellence (BLX) Transition program
This five-day summer program helps ease the transition into college for new students.
Move in early before the start of fall semester.
Meet new friends.
Learn about academic and social support.
Gain leadership skills and more.
Afterward, you're encouraged to join the BLX Living Learning Community in Parks Tower Residence Hall to continue living and learning together.
---
How can I get involved?
Black Student Organizations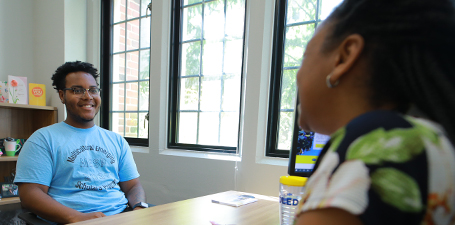 Mentorship Programs
Connect with mentors at UToledo and in the community through Talented Aspiring Women Leaders and Brothers on the Rise.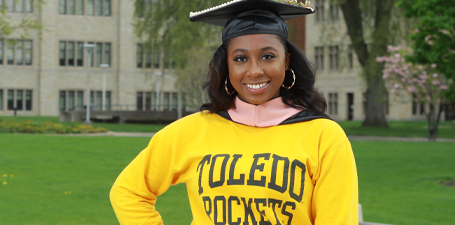 Scholarships
Review our resources for scholarships for Black students.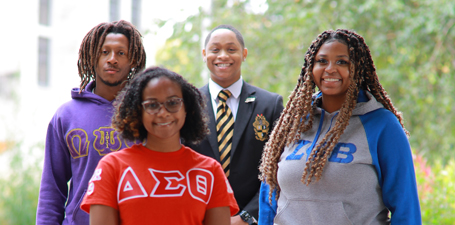 Greek Life
UToledo's National Pan-Hellenic Council (NPHC) represents nine historically Black fraternities and sororities on campus.
Meet Jersey Napler-McClendon
Class of 2022, Political Science
"OMSS has been a great help to me during my time here at The University of Toledo. I have met a lot of my friends in the office, and it's a great place to study and unwind. I would definitely recommend the OMSS to any multicultural student looking for a place to feel comfortable and welcomed."
Meet Taylor Ottrix
Class of 2023, Biology
"As an African American female and a part of the LGBTQ+ community, the Office of Multicultural Student Success helped me a lot. It's a safe place to be yourself. It's so welcoming. What really stood out to me are the multiple black leaders that are in the office. As a black female at a predominantly white school, it's hard to find people like yourself in the offices. It showed me how as an African American woman, I have people that care about me here that are the same complexion as me."