Alternate Housing & Waiting List
The demand for on-campus housing in the fall often exceeds available space. In order to provide housing to as many incoming students as possible and still provide good service to everyone, we have identified a number of spaces within the residence halls to help meet the demand. The Office of Residence life will accept more housing applications than the normal capacity of the residence halls assuming there will be cancellations and no-shows. Application-contracts that are the last to be confirmed to an on-campus space may be assigned to an alternate space.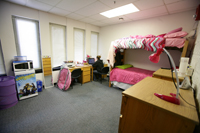 Alternate spaces are floor lounges converted to rooms, a fifth person in a quad, rooms in McComas Village and rooms in a nearby hotel or apartment. Each resident is provided a full set of furniture. Rocket Dollars will be given should the student remain in this alternate space beyond the third week of classes in the semester. Permanent assignments into designed capacity rooms are made as soon as space becomes available. Spring semester housing is more readily available and alternate assignments are rare.