UToledo Residential Community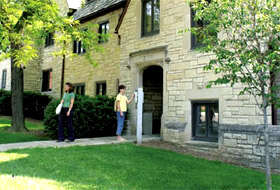 Welcome to The University of Toledo! We hope your stay with us in the residence hall will be a rewarding experience. Our policies are designed to help you successfully achieve your academic goals. One of the keys to a rewarding experience on UT's campus is allowing respect to be a guide for all behavior — respect for one's self, for others and for the facilities in which you live. UT's residential communities are:
Purposeful:  Where faculty and students share academic goals and work together to strengthen teaching and learning in an on campus environment.
Open & Inclusive:  Where freedom of expression is encouraged and where respect and civility are expected. Students are given leadership opportunity through participation in hall government. Feedback from residents is actively sought through walkabouts, focus groups, floor meetings and one-on-one interaction with residence life staff.
Just:  Where the individuality of each person is honored and where diversity is consistently pursued. A variety of events are planned throughout the year to encourage residents to expand their experiences with diversity.
Disciplined:  Where individuals accept their obligations to the community and where well-defined governance procedures guide behavior for the common good. Residents work together at the beginning of the year to establish standards for the entire community.
Caring:  Where the well-being of each community member is sensitively supported and where service to others is encouraged. Trained professional staff in every residence hall facilitate communication among residents, help resolve their concerns and provide resources for service programs.
Celebrative:  Where the heritage of the institution is remembered and where the rituals and pride, affirming both tradition and change, are widely shared.
(Adapted from: Campus Life: In search of Community. The Carnegie Foundation for the Advancement of Teaching; Ernest L. Boyer; Princeton New Jersey.)
The University of Toledo Office of Residence Life works to develop these communities through a variety of community development activities in living areas across campus. We invite you to become involved as we work to develop strong and positive communities at The University of Toledo.